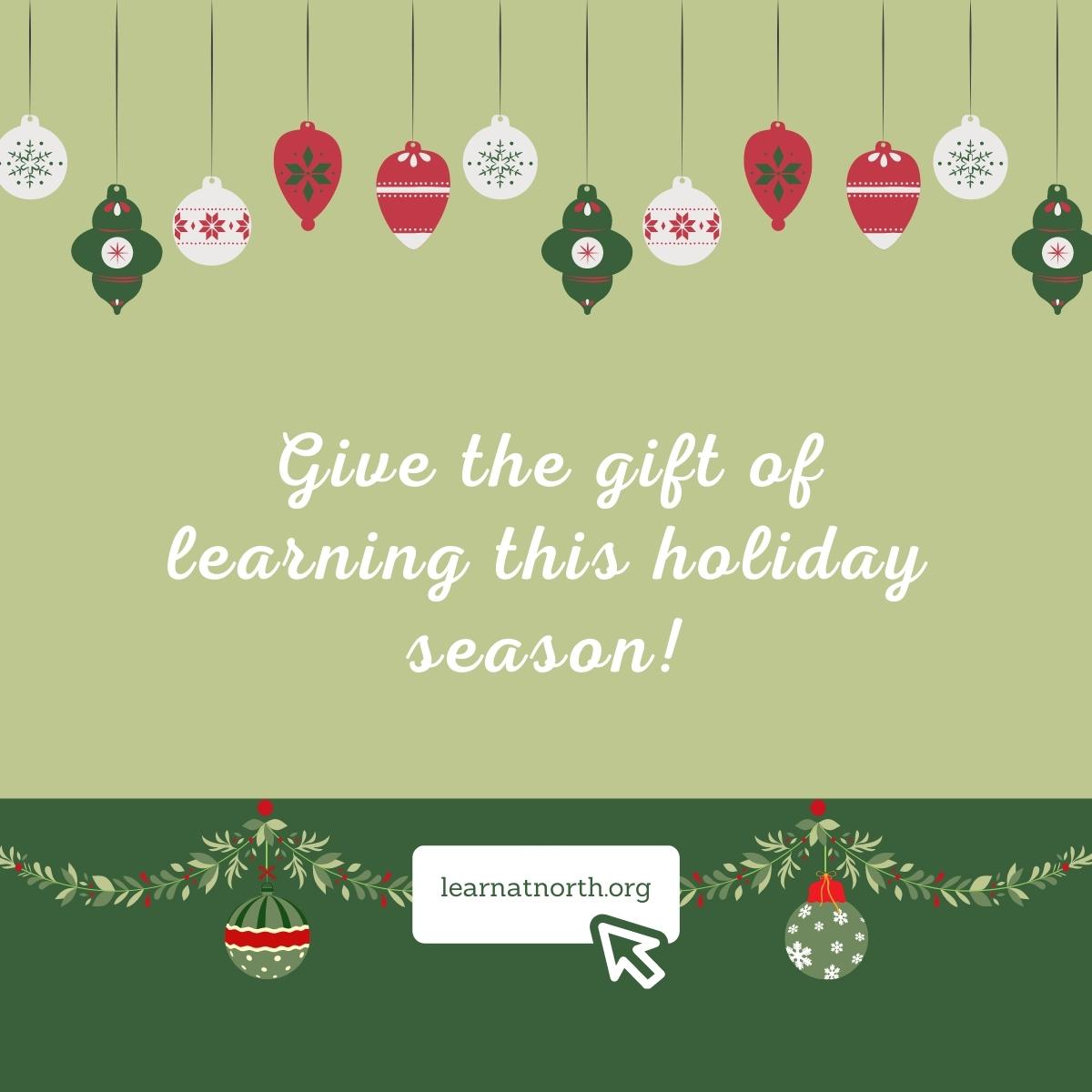 Adult Family Home | Arts | Computer | Enrichment | Fitness | Food & Wine | Home & Garden | Language | Professional
The holidays are around the corner and Continuing Education at North Seattle College is offering some great classes perfect for the season of giving! Why not give the gift of classes this year? From sewing, fitness, cooking to photography and painting there is a class for everyone on your holiday list! 
The process is easy. Find the perfect class for the person you have in mind and register like you normally would: add the class to your cart and complete the registration form. 
 
IMPORTANT! When completing the registration form, enter the recipient's information but be sure to enter your email address. We will email you a printable certificate. Add the recipient's email address in the "notes" section of the form. This ensures we keep your gift a secret until the big reveal! 
 
We are also happy to process this gift over the phone at (206) 934-3705. 
---
Class Gift Giving Ideas
We have classes priced for every budget! From in person classes to Zoom classes there is something for everyone. These are just a few gift giving ideas. For more class options, be sure to click here to visit our all courses page.

Oil Painting for Beginners
Dates: 1/11/2022 - 3/15/2022   Times: 6:00 PM - 9:00 PM
Sessions: 10 Tu; 30 hours   Building: AS Bldg   Room: Room 1532
Fee: $239.00
In this class students learn the fundamentals of painting with oils, gaining a knowledge of the materials and a range of approaches both historical and contemporary. Through assignments based in observation, students will explore basic concepts of painting such as composing with color, value, gesture, shape, and line, as well as different ways of applying paint to canvas, panel, and paper with brush and palette knife. Students will learn how to create and work from a still-life, self-portrait, as well as from each other.

---
Charcoal Drawing
Dates: 1/13/2022 - 3/3/2022   Times: 7:00 PM - 9:00 PM
Sessions: 8 Th; 16 hours   Building: Online   Room: Zoom
Fee: $199.00
Experience the freedom of charcoal in this introductory class! This drawing class is designed for all levels as we explore reduction and additive techniques of charcoal drawing. Through observational drawing practices and tutorials, you'll learn to push and pull light by examining tonal values and studies in scale and proportion to create illusions of grandeur!

---
Pens, Ink and Paper
Dates: 1/29/2022 - 2/12/2022   Times: 10:00 AM - 12:00 PM
Sessions: 3 Sa; 6 hours   Building: AS Bldg   Room: Room 1530
Fee: $65.00
Getting more pens, ink, or paper usually involves a quick trip to the store or an online order for those of us in the modern world. However, for most of human history, it was something a lot of people knew how to make at home. This class will reintroduce you to some of these age-old skills with a combination of history, demonstrations, and hands-on activities. From the paper-making techniques of the ancient Egyptians, to the physics that makes fountain pens work, to ink-recipe failures of medieval monks, it'll be a wild ride through the different ways humans have made marks on different surfaces--marks that outlive their lifetimes! 

---

Improv for Everyone
Dates: 1/25/2022 - 3/15/2022   Times: 7:00 PM - 9:00 PM
Sessions: 8 Tu; 16 hours   Building: CC Bldg   Room: Room 1161
Fee: $159.00
Many of today's comedic actors from feature films and TV have one thing in common: a background in improv comedy! Whether your aspirations are for Hollywood, the stage, or just to be the funniest person in the room, Improv for Everyone is a great place to start. In this class, you will play warm-up games and learn to improvise comedic scenes with partners. No experience is necessary; just a willingness to play and have fun.

---

Creative Writing: City Fiction
Dates: 1/13/2022 - 3/3/2022   Times: 6:30 PM - 8:30 PM
Sessions: 8 Th; 16 hours   Building: CC Bldg   Room: Room 3460
Fee: $175.00
Cities are spaces forever in flux. Neighborhoods change, buildings are razed and new ones take their places, people move in and out. Within this environment, the writer attempts to capture the pace, the texture and the meaning of urban living. Among the most accomplished writers in the genre are Saul Bellow, James Baldwin, James Joyce, Virginia Woolf and many others. Contemporary writers like Tommy Orange and Sayaka Murata have explored the emergence of new and forgotten identities in urban spaces. By reading excerpts and short fiction, students will learn the techniques that allow these eminent authors to create narratives that revolve around the city. These techniques will then be practiced, refined and implemented in the students' own writing through a series of assignments.

---
Freelance Writing for Fun and Profit
Dates: 1/31/2022 - 2/14/2022   Times: 6:30 PM - 8:00 PM
Sessions: 3 M; 4.5 hours   Building: Online   Room: Canvas and Zoom
Fee: $99.00
Make money, influence others, and express yourself with freelance writing! Learn to write compelling stories for magazines, blogs and websites. This fun, hands-on class takes you step-by-step through the writing/publishing process, from getting ideas to cashing your checks. We'll cover ideas, research, marketing, writing skills, building your platform, and more.

---

Beginning Yoga
Dates: 1/27/2022 - 3/17/2022   Times: 9:00 AM - 10:00 AM
Sessions: 8 Th; 8 hours   Building: Online   Room: Zoom
Fee: $109.00
If you are feeling stressed--and who isn't these days?--adding yoga into your life is a great way to practice self-care. In this class you'll learn how to deal with tight hamstrings, creaky knees and other limitations so that you can enjoy this life-enhancing practice at your own pace. We'll explore basic yoga postures, breath awareness, meditation and relaxation to increase flexibility, improve strength, and create a sense of balance in your life. Susan D'Onofrio's clear instructions and demonstrations make it easy to follow along. You'll need a yoga mat, a dense blanket, and two yoga blocks.

---
Mindfulness Meditation for Stressful Situations
Dates: 2/12/2022 - 2/12/2022   Times: 10:00 AM - 12:30 PM
Sessions: 1 Sa; 2.5 hours   Building: Online   Room: Zoom
Fee: $29.00
Freedom from anxiety and worry evolves from incorporating small moments of stillness into your everyday life. Join a supportive community to enjoy practices proven to increase energy and joy like mindful breathing and walking that engage your senses and help overcome trauma. Discover self-compassion practices that allow you to step out of negative thoughts and bring deep care to yourself and others. Based on the classic Kabat-Zinn Mindfulness-Based Stress Reduction (MBSR) course, instructor Andrea D'Asaro offers a streamlined course for people in high-stress jobs such as nurses, doctors, parents, and teachers-or for anyone who needs moments of calm in their daily lives. Bring a snack and a cushion or yoga mat.

---

Beginning Guitar 1
Dates: 1/26/2022 - 3/16/2022   Times: 7:00 PM - 9:00 PM
Sessions: 8 W; 16 hours   Building: CC Bldg   Room: Room 1442
Fee: $179.00
Pick up the guitar and play! Learn chords, strum patterns, tablature, and notes while learning songs. Pick up some basic theory. Have fun while learning the fundamentals that make guitar playing rewarding in this comfortable class environment. Bring your acoustic guitar and required books to class. 

---

Italian I
Dates: 1/8/2022 - 2/26/2022   Times: 9:00 AM - 11:00 AM
Sessions: 8 Sa; 16 hours   Building: Online   Room: Zoom
Fee: $169.00
Benvenuto! Welcome to the beautiful language of Italy. This engaging class uses a variety of materials to increase your vocabulary. You'll get a basic introduction to the Italian language which includes conversation, grammar and pronunciation.

---
Film Noir: Los Angeles on Location
Dates: 1/18/2022 - 2/15/2022   Times: 7:00 PM - 9:00 PM
Sessions: 5 Tu; 10 hours   Building: CC Bldg   Room: Room 1254A
Fee: $99.00
The glamorous and elegant, the seedy and the desperate, the criminal and the maudlin - they all come together for a cynical, dark and often tragic performance that characterizes the film noir movement of the 1940-1950s. Countless films take place in Los Angeles, California and yet LA is often misrepresented, giving visitors and newcomers quite a surprise upon arrival to the City of Angels. The films we will be screening were all shot on location in Los Angeles: Act of Violence, Armored Car Robbery, The Unfaithful, Southside 1-1000, Cry Danger.

---
Puget Sound Geology
Dates: 2/28/2022 - 2/28/2022   Times: 6:30 PM - 8:30 PM
Sessions: 1 M; 2 hours   Building: Online   Room: Zoom
Fee: $35.00
Curious about the geologic forces that shaped Puget Sound? We'll look at specific features in and around the basin, and learn how they were formed. Handouts provided.

---

Photography Basics : Techniques and Art
Dates: 1/5/2022 - 1/26/2022   Times: 7:00 PM - 9:00 PM
Sessions: 4 W; 8 hours   Building: Online   Room: Zoom
Fee: $149.00
Have you been using your digital DSLR or digital mirrorless camera on automatic but want to learn how to use its full creative potential? This introductory color class will cover the basics of camera operation: f-stops, shutter speeds, ISO, white balance, lenses, exposure, metering, filters, flash, and more. Bring your digital DSLR or digital mirrorless camera that can be put fully on manual to class (no point and shoot or bridge cameras; contact instructor if unsure). A tripod is recommended.  Class includes two Sunday afternoon field trips with instructor (details given in class).  Instructor's work has appeared in National Geographic publications.

---
Support Continuing Education at North Seattle College
Continuing Education is a self-support program at the college, as a result we rely on our community to help us raise money to support our program needs. This financial help allows us to hire expert instructions and bring you top classes across a number of disciplines. 
Continuing Education is committed to enriching lives by:
Offering lifelong learning opportunities
Serving community needs and interests
Expanding horizons through quality educational experiences

If you you'd like to make a tax-deductible donation you can do so through the Continuing Education Fund, processed through the Seattle Colleges Foundation, a 501c3 non-profit. We appreciate your continued support!
---
#learnatnorth #education #students #continuingeducation #enrichmentclasses #artclasses #artclasses #fitnessclasses #cookingclasses #bakingclasses #homeclasses #gardenclasses #languageclasses #professionalclasses