Bill Fredericks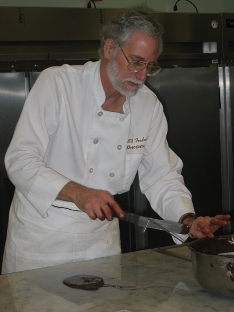 Known as the Chocolate Man, he is the owner and operator of Chocolate Man, a chocolate supply business for the last 20 years. He is an internationally trained chocolate chef and past corporate chef for Choc Elan, LLC. Training and certification ranges from chocolate manufacturing to advanced and expert level chocolate work. Bill has been instructing, consulting, and private cheffing in the Puget Sound region and beyond for 22 years. Acclaimed as one of three chocolatiers in the Seattle area that are pushing the envelope by Seattle Homes and Lifestyle magazine, December 2004. Member of AACT (American Association of Candy Technologists), IACP (International Association of Culinary Professionals), FCIA (Fine Chocolate Industry Association) and President of the NW Chocolatiers Guild. Currently on staff at Blue Ribbon Cooking School, South Seattle College, and North Seattle College and he teaches occasionally at Sweet Decadence (Newcastle), Dawn's Cake and Candy (Kirkland), Sur La Table and various other area locales.
Delicious Chocolate Truffles
Spring 2020
May 17, 2020 to May 17, 2020 (1 sessions total)
Fee: $95
Item: 7196
A $10 materials fee is due to the instructor in class. Exact cash only.
Please bring a sack lunch to class.