Julia Lowther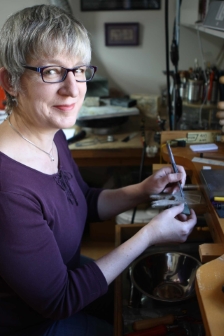 Professional jewelry artist and popular teacher, Julia Lowther, grew up in Monteverde, Costa Rica, where her hands were always busy with embroidery, crochet, weaving, and other fiber arts. When she moved to Seattle, WA in 1996 and discovered metalwork, the manual dexterity gained from decades of needlework served her well and translated neatly to working at a jewelry scale.
Lowther's jewelry is comfortable, chic and stunning. Her work has been published most recently in the books; '500 Gemstone Jewels; Chain Mail Jewelry; Wrap, Stitch, Fold & Rivet' and 'Art Jewelry Today 3'.
See her work at www.julialowther.com, and her jewelry making tips and tricks at www.shoeboxstudio.com.