Vija Rogozina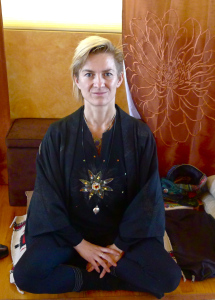 Vija is an international educator with meditation experience of over 20 years, certified Neurosculpting®Facilitator/Fellow, B.A. in Social Work/Psychology, B.A. in Communication.
Vija has lived and worked in Latvia, the Netherlands, UK, Thailand, India, Denver, CO and Seattle, WA. She has undergone Buddhist study at the Shambhala Buddhist Center in 2005 and after two years of rigorous practice was certified to teach Neurosculpting® modality. Vija had facilitated numerous workshops at the Polyclinic in Seattle, Neurosculpting® Institute, Colorado Free University, Mayu Meditation Sanctuary, various yoga centers and Fidelity Investment corporate seminar. She works with private clients and groups.
Vija is most enthusiastic in sharing the knowledge of brain science and meditation, watching clients gain emotional clarity, learning to manage stress, healing trauma and achieving their highest transformation. She is also a published author, a visual artist, an avid explorer and a parent.