Kevin O'Connor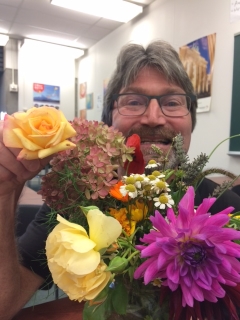 Kevin O'Connor teaches English at North Seattle College. As well as teaching in North's Continuing Education program he also regularly teaches English in the International Education Program (IEP) and immigrant and refugee Adult Basic Education (ABE)programs. As a Continuing Education, Kevin specializes in creative lessons to improve students' English and leads culturally rich activities in and out of the classroom. He has lived in Seattle for over 30 years with his family and went to graduate school here. While teaching is his vocation he is also a musician who plays in and around Seattle with YAAMBA marimba ensemble and he also sings with the Seattle Peace Chorus. Kevin is also a community gardener and he looks forward to many opportunities to engage, teach and learn in a Continuing Education class with you in the future!
Everyday English Conversation
Fall 2019
Oct 14, 2019 to Nov 25, 2019 (12 sessions total)
Fee: $159
Item: 7048
No class on 11/11/19 due to Veterans Day.
No class on 11/11/19 due to Veterans Day.
TOEFL Preparation
Fall 2019
Oct 05, 2019 to Nov 23, 2019 (8 sessions total)
Fee: $235
Item: 7075
Required book: Cambridge Preparation for the TOEFL TEST iBT (with Answer Key), 4th edition
See Textbook and Supply List for textbook information.