Kevin O'Connor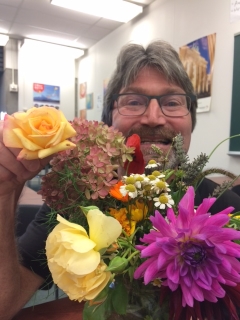 Kevin O'Connor teaches English at North Seattle College. As well as teaching in North's Continuing Education program he also regularly teaches English in the International Education Program (IEP) and immigrant and refugee Adult Basic Education (ABE)programs. As a Continuing Education, Kevin specializes in creative lessons to improve students' English and leads culturally rich activities in and out of the classroom. He has lived in Seattle for over 30 years with his family and went to graduate school here. While teaching is his vocation he is also a musician who plays in and around Seattle with YAAMBA marimba ensemble and he also sings with the Seattle Peace Chorus. Kevin is also a community gardener and he looks forward to many opportunities to engage, teach and learn in a Continuing Education class with you in the future!
A Cultural Exploration of Seattle
Spring 2020
Jun 11, 2020 to Jun 13, 2020 (3 sessions total)
Fee: $105
Item: 7259
Ferry ride to Bainbridge Island is included in cost of the course; all other expenses will be paid directly by student (approximately $35 plus lunch and snacks). Thursday evening class meets on campus, 6:30 - 8:30 pm. Friday field trip is 10:00 am - 2:00 pm and Saturday field trip is 10:00 am - 4:00 pm. Students will need to make arrangements to meet at each of the field trip locations; details will be given in class on Thursday.