Meredith Arnold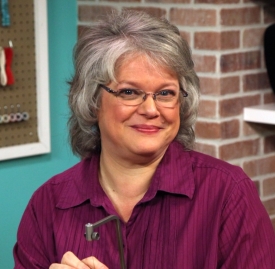 Known as a Comedian Artist, Meredith brings a depth of knowledge and humor to her classes to create a unique and fun learning experience for her students all over the world. Creating art jewelry for over 25 years, she has appeared on the PBS show "Beads, Baubles and Jewels", on local college cable channels, in video for Craftcast and teaches jewelry metalworking online for Craftsy.
Meredith enjoys the challenge of bringing together a variety of media to create jewelry including fine silver, base metals, wire, resin and paper, polymer clay and more.
As the Director of ArtWorks in Edmonds, Washington, she has the privilege of working with artists at every level: mentoring, exhibition, developing programs, and as a resource for business practices and to help further their careers through marketing.