Monica Street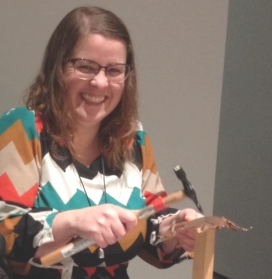 Monica is a metalsmith and jeweler. She is the former Vice President of the Seattle Metals Guild. In the past she has taught for the Seattle Public Library, James Washington Foundation, Tacoma Art Museum, BARN, Gage Academy, North Seattle College, Coyote Central and Seattle Public Schools at the elementary to college level.
In 2017 her work was exhibited at the Washington State Convention Center for the SMG Biennial, the Ron Ho Show at POTS Gallery in Fremont and she interned with Catherine Grisez for the Part You public sculpture project at Traver Gallery. Her work was also chosen for a Director's Choice Award at the 2019 Pratt Auction. Street currently works as a freelance metalsmith and teaching artist (see Events for Classes). She is also assistant to bell maker Gordon Barnett of GRB Bells.
As a volunteer with a passion for archives and student resources, she heads the Seattle Metals Guild Video Archive Youtube and North Jewelry Archive on Flickr.
Website: