CE Student Art Show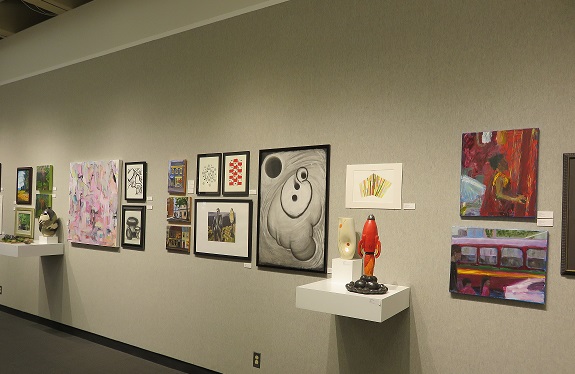 Summer 2020: 6th Annual Student Art Show
Students in North Seattle College's Continuing Education program are invited to submit work that is produced in CE art classes from Summer 2019, Fall 2019, Winter 2020, and Spring 2020 quarters for our 6th Annual Student Art Show in Summer 2020.
You may submit three (3) total pieces of your work* in any of the following medium: metal work, paintings, drawings, ceramics, prints, photos, digital pieces, woodworking, comics, etc.
*Only work produced in a CE class will be considered

Continuing Education's 6th Annual Student Art Show in Summer 2020: July 14 - August 13, 2020. 
2020 Art Show Timeline: (Dates are tentative)
Friday, June 26: Entry Form due by midnight
Monday, June 29, 12-2pm and 5-7pm: Drop off work for show
Monday, July 6, 8am-7pm: Pick up for art not accepted from CE office
Tuesday, July 14, 6-8pm: Opening Reception; Award Ceremony at 7pm
Friday, August 7: People's Choice Award announced
Thursday, August 13: Last day of show
Friday, August 14, 12-2pm and 5-7pm: Artists pick up work
Please note: This will be a juried show and not all works will be chosen for inclusion: space restrictions, range of work, and presentation will all be considered.  
Complete the online 2020 ENTRY FORM by Friday, June 26. Download the RULES, ARTIST CONTRACT, and LABELS. To complete the contract and labels, you will need to download and save to your computer. Then open the file in Adobe Acrobat Reader to complete these documents. Return the Artist Contract via email to nscartgallery@seattlecolleges.edu by June 26 or deliver with your art work.
Those who need help applying can come by the gallery between June 15-19 and someone can assist you with the application forms.
To view images from our previous Annual CE Student Art Shows, please visit our:
2015 Facebook Gallery 
2016 Facebook Gallery
2017 Facebook Gallery
2018 Facebook Gallery
2019 Facebook Gallery
Learn more about all of the Art Shows at the North Seattle Art Gallery.