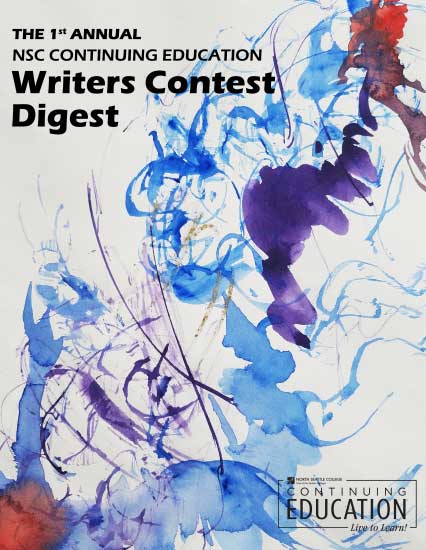 Following more than a year of planning, North Seattle College Continuing Education (CE) writing students finally had their moment to shine. Thanks to suggestions and encouragement from writing instructor Christine Dubois, in early December, 2018 CE put out a call for submissions for the 1st Annual Continuing Education Writers Contest.
CE writing classes have long been a mainstay of the curriculum and led by seasoned instructors with a gift for community building as well as mentorship. "I really enjoyed being in such a fun, positive writing class!" said 2019 Writing Contest winner, Jessica Fishman of her experience in Writing a Short Memoir with Chris Dubois. "I wasn't afraid to share my work as the instructor phrased everything so positively and really encouraged us to keep going. The class was a great way to start taking my writing life more seriously!"
Writing students were invited to submit work produced in CE writing classes from the 2018 calendar year between Winter 2018 and Fall 2018. Contest categories reflected the wide range of writing classes available through CE, encompassing Poetry, Long Fiction, Short Nonfiction and Short Fiction.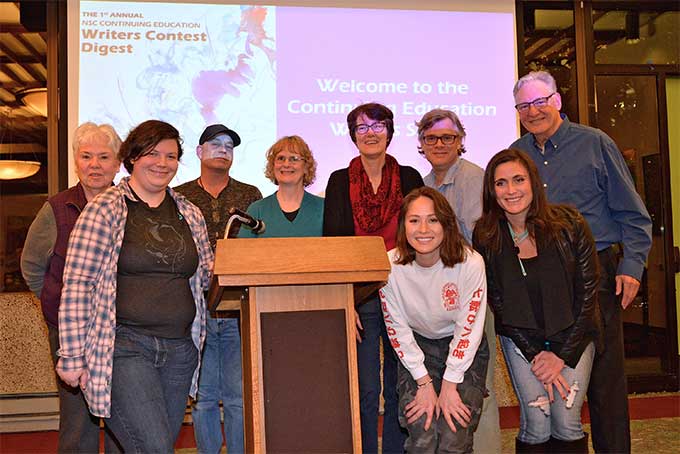 Once submissions passed through an intense jurying process, all contest winners (please see below) were invited to read their work at the 1st Annual Writers Contest Salon on March 22, 2018.
Poetry:
1st place: Crosby
By Clifford Hoeft
2nd place: October's Poem
By Zachary Hoffman
3rd place: Bittersweet Symphony
by Tae McCash
Short Nonfiction:
1st place: American and Canadian in England and Jane Eyre
By Jessica Fishman
2nd place: The Rose Bush
By Joey Shyloski
3rd place: First Day Drama
By Claudia Glaze

Short Fiction:
1st place: The Promised Land
By Samuel Sharpe
Long Fiction:
1st place: Hold Your Color
by Hannah Midget
In addition, all Writers Contest submissions were included in the 1st Annual NSC Continuing Education Writers Contest Digest which is now available for free online.
Hosted by CE Marketing Specialist Cole Hornaday, the Writers Contest Salon saw an enthusiastic and supportive turnout. As a communal event, the salon was a success on multiple levels; not only did the salon offer winning writers the chance to share work with their peers, it gave them opportunity to discover what was happening from other CE writing classes.  
Writing is a creative process unlike any other as it can take one's work from private to public in the blink of an eye. Hours, months or even years of introspective toil are instantly turned inside out upon sharing one's written work with others. Nerve wracking as this may be, seasoned writing students will confirm such steps are crucial in the development of their work. As Octavia Butler once said, "You don't start out writing good stuff. You start out writing crap and thinking its good stuff, and then gradually you get better at it. That's why I say one of the most valuable traits is persistence."
For CE students, that persistence came in part thanks to the support of CE writing instructors like Katherine Grace Bond, Chris Dubois, Steve Lorton and Graham Isaac. "I have taken a number of writing classes at NSC and they have all been excellent," said contest winner, Claudia Glaze. "The instructors are knowledgeable, encouraging and provide excellent feedback. I enjoyed reading my piece for the group, and I enjoyed hearing what other people had written. It was fun."
Please note, if you are currently enrolled, or plan to join a CE writing class in 2019, your work is eligible for submission to next year's 2nd Annual Continuing Education Writers Contest.
Photo credit: Bob Sears