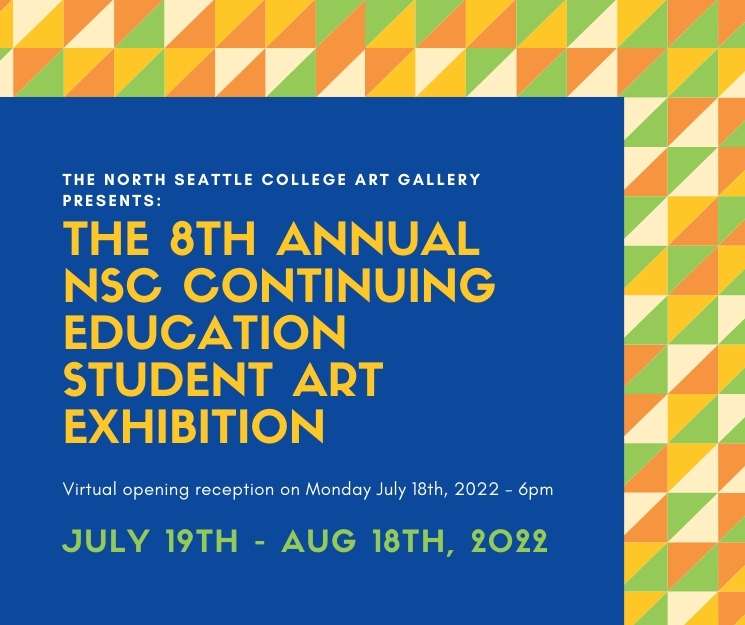 Adult Family Home | Arts | Computer | Enrichment | Fitness | Food | Home & Garden | Language | Professional
---

---
Join us for the 8th Annual Continuing Education Student Art Show! We are excited that the exhibition is back in-person in the North Seattle College Art Gallery and open to the public starting Tuesday, July 19th. The exhibition runs from Tuesday, July 19, 2022, to Thursday, August 18, 2022, and the gallery will be open Tuesdays & Wednesdays 12-2pm & 5-7pm and Thursdays and Fridays 12pm-2pm. 
This is a great opportunity to see all the wonderful work by our CE students and to even purchase pieces. We'd also like to invite you to vote on your favorite piece for our People's Choice award. The People's Choice Award will be announced on Monday, August 8 so be sure to get to the gallery and vote by Friday, August 5 (Friday hours: 12-2pm). 
There will be a virtual reception (Zoom link is below) for this exhibition on Monday, July 18 at 6pm. At this virtual reception there will be a presentation of the Jurors Awards. Award Ceremony will begin promptly at 6pm and last approximately 15 minutes so be sure to join on time to hear the Juror Awards presentation and get a sneak preview of the work in the gallery! We hope you can attend! 
Zoom information is as follows: 
 
Zoom Link: https://zoom.us/j/94993692263 
Meeting ID: 949 9369 2263  
Dial by your location: +1 206 337 9723 US (Seattle) 
Thank you for actively supporting the Continuing Education Programs at North Seattle College. We hope to see you soon! 
---
*Hours may be subject to change. For more information, visit the CE Student Art Show web page. If you have any questions, email NSCArtGallery@seattlecolleges.edu.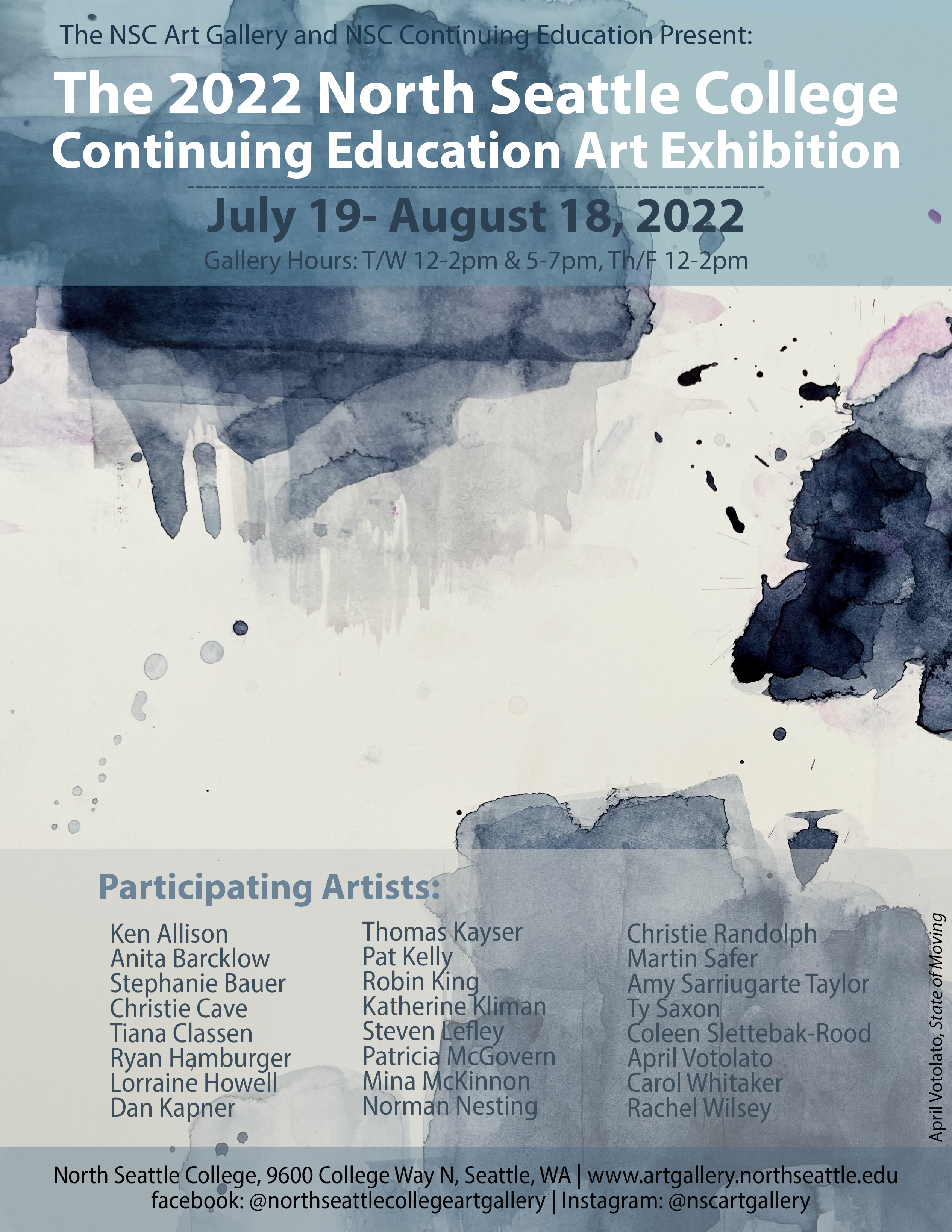 ---
Have a Class Idea? Interested in Teaching for Us? 
Do you have an idea for a Continuing Education class you'd like to see offered?  How about a class you'd like to teach?

Now is your chance. 
Click here to share your idea with us! Click here to submit your class proposal.
---
#continuingeducation #learnatnorth #enrichment #enrichmentclasses #education #continuingeducation #lifelonglearning #career #professionaldevelopment #artclasses #audioengineering #cookingclasses #paintingclasses #ceramicclasses #natureclasses #marketingclasses #socialmediaclasses #languageclasses #homeclasses #interiordesignclasses #cakedecoratingclasses #fitnessclasses #yogaclass #taichiclass #danceclass #investmentclasses #writingclasses #cameraclasses #improvclass #paintingclass #collageclass #oilpaintingclass #dancingclasses #fitnessclasses #art #artshow