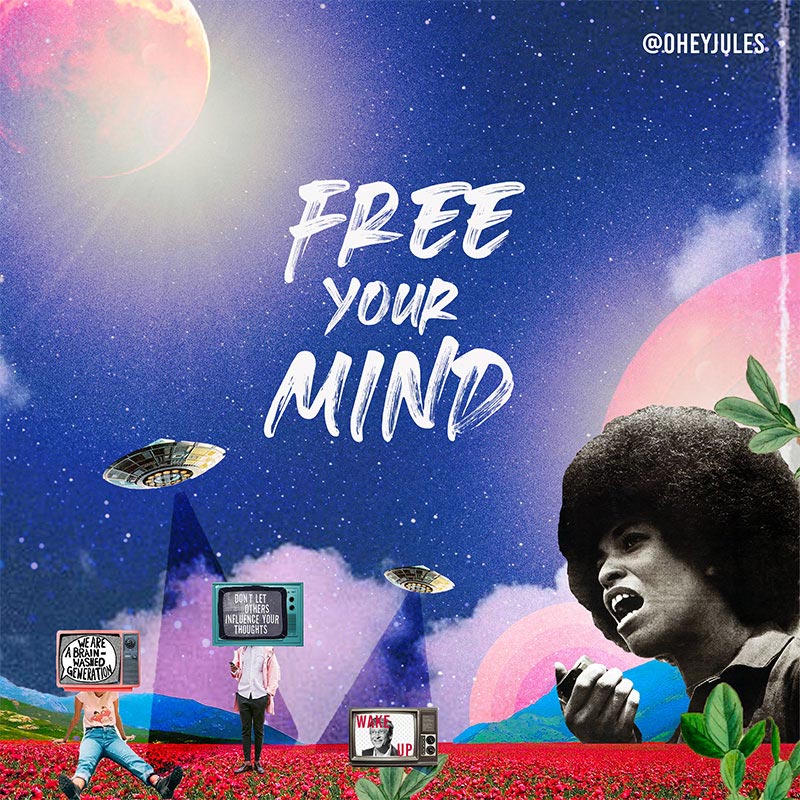 For Julia Marshall, graphic design and digital collage-making go hand-in-hand. She uses skills from one discipline to inform the other, all while following her lifelong passion of creating art. Originally from Los Angeles, Julia moved to Seattle three years ago to pursue creating full-time. In her course, Graphic Design for Creatives, students will practice the skills needed to craft posters, business cards, flyers, and more while learning to let go of self-doubt and embrace learning in a community, even in a time of physical separation.
Tell us a little bit about yourself as a creator. Have you always been focused on the arts? Why did you choose to pursue graphic design professionally?
I've always loved to draw, write, and tell stories. Growing up I was expected to become a doctor like many members of my family but deep down I always knew that I wanted to be a Fine Artist. When I started college, I became fearful that I wouldn't make it as an artist in the real world, so I decided to pursue graphic design professionally instead. I knew that it would be a career path that I could continue to be creative in while allowing me to find a job in the never-ending design market. 
After starting my corporate job as a graphic designer, I knew that I wanted more. I wanted to revisit my love for fine art, so I signed up for a Continuing Education Course with collage artist Sandra Pressley. I was going through a huge transition in my life; learning a new skill would be the creative outlet I needed to keep me grounded. Sandra was so patient and made everyone in the class comfortable to fully express themselves. She equipped me with the tools that I'd need to make fine art collages I could be proud of. From there I took it a step further, utilizing my skills as a graphic designer to create digital collages. After taking her course I knew that I had finally found my true calling! It was because of her teaching that I felt that I could pursue the true callings of my heart: starting my own business selling my own artwork.
When did you develop your graphic design skills and in what context? 
As the only designer on my team at Zillow.com, I learned new design skills while keeping up with the ever-changing real estate industry. It was challenging at first but looking back on my experience, I learned tricks for designing web, print, and all social platforms. I can truly say that I learned all my best technical skills from working at Zillow.
As a creator, how does graphic design fit into your tool kit, and how do your other creative practices inform your graphic design projects? Do you use graphic design in both professional and creative pursuits?
Outside of Zillow I started a small business, selling my art online. I use my design skills to create digital collage assets that I can now sell as art prints. My photography background allows me to capture a subject, then use the images to creative vibrant, colorful collages. It has been a wonderful creative pursuit of mine this year and I couldn't be more grateful that my graphic design journey led me to this place.
What are you hoping students take away from your class? 
Skills, skills, skills! I'm hoping that students learn new skills that empower them to create on their own once the course ends. I hope that students feel a new sense of confidence and freedom to express themselves creatively. There are so many wonderful opportunities that come with learning the ins and outs of graphic design. I want students to feel empowered to conquer any creative goals they might have once the course ends.
What are some challenges that a student might face as they begin studying graphic design? Your advice for overcoming those challenges?
Self-doubt is a common emotion that we all experience at one point or another in our lives. When studying graphic design there are many elements that a student will learn that may be intimidating at first. The designer will need to learn how to use the software while also relaxing into the creative flow of the process. Both elements are important to bring your composition to life. 
My advice to students: try your best to push through any initial feelings of self-doubt, because it will get easier each time that you practice. Learning graphic design is a marathon, not a sprint. Try your best to breathe and go with the flow; you'll end up creating a composition you can be proud of.
As we move into online teaching because of the pandemic, what excites you about this new format? What are you unsure of?
Graphic design is the best class to teach virtually! Students can learn the programs from the comfort of their homes using their own computers. The one thing I'm unsure of is how we will keep the classroom dynamic upbeat and community oriented. I believe that community is important when embarking on any new creative journey. I want to make sure that every student feels that they are safe to be themselves in this class, knowing that they are a part of a creative community. We are all in this together! So, it'll be important to speak up, ask questions, and share work during the course.
We've spoken to Continuing Education instructors about the ways art making can help us get through tough days. As a creator, are you finding time for your own art? What brings you joy?
Working from home has surprisingly opened more free time for me to create my own art. I've also had more time to dive deeper into my passion for writing poetry. I love immersing myself in nature: the peace that comes from nature inspires me, and Seattle is the perfect place for exploring! What really brings me joy is jumping in my car and driving for hours in search for quiet lakes and peaceful forests. I like to bring my art supplies along with me to sketch what I see or write down inspiring ideas. 
Dive in to your own creative practice and join a community of designers this summer with Julia. Sign up for Graphic Design for Creatives today!
To learn more about Julia, visit her website here.