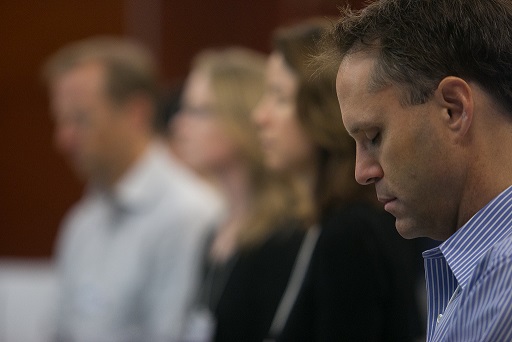 Mindfulness Meditation for Busy Working People instructor Andrea D'Asaro answers our questions about the benefits of integrating mindfulness into our everyday lives and why chocolate is a vital part of the process.
 We hear so much about "mindfulness" these days. But what does it actually mean?
Despite all the hype about "mindfulness" it's really very simple. Mindfulness is a joyful and rich approach to our everyday activities.  That's why in my class, "Mindfulness for Busy working People," we eat chocolate at each meeting. It's an easy way to practice deep enjoyment through paying attention to small yet fundamental pleasures. We sit in a circle, choose a favorite chocolate (or fruit) from the varieties that students bring in—then focus on the fragrance, feel and flavor of our favorite dark, caramel, or sea salt chocolates. Savoring the positive, noticing each changing moment, and allowing kind attention is where we start. Most of us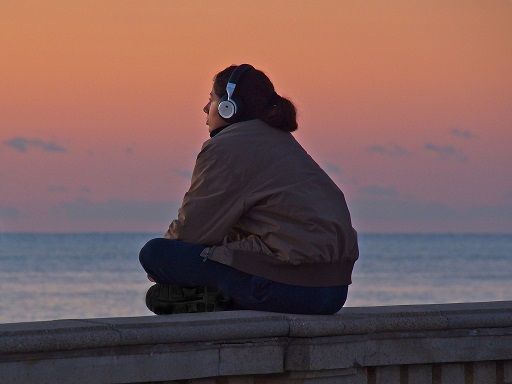 feel full and satisfied after just one chocolate! And sitting together in a community of caring makes all the difference in keeping students coming each week.
How can busy working people apply what they learn from you to their workday lives?
Students try a variety of practices, then each student chooses a few daily pauses to fit their schedules and preferences.
Last semester, one of my students, an Amazon techie, used focused walking to the bus, a moment of sitting using the body scan, and mindful standing everyday.  For him, just a few minutes of this rejuvenating attention allowed him to let go of stress and rest in the moment. Another student, a new mom, developed her own serenity break: While her baby napped, she sat quietly while listening to classical music in the kitchen to revive her energy and appreciation. Students receive weekly emails and guided video practices along with partner check-ins and optional emails with me, to create a strong foundation that increases joy and decreases stress.
What activities and practices do you offer in your class?
We practice basic MSBR (Mindfulness Based Stress Reduction) techniques including the grounding body scan, standing and walking mindfulness, Seahawks breathing, listening and speaking, self-kindness practice and the popular mindful eating—along with the brain science and research behind these approaches.
Participants work with me and the class in creating a daily schedule that keeps them grounded and confident all week. Mindful hiking, bike riding, running, listening to music, walking or even connecting with our family or friends can all be done with gentle and kind attention.
What makes Mindfulness distinct from other forms of meditation?
Mindfulness describes the quality of our attention: are we gently bringing our awareness back to the moment? If we are talking to a friend, we really want to hear what they are saying, rather than thinking ahead and planning our answer.
People associate the word "meditation" with long periods of sitting silently. In contrast, mindfulness practices are short and designed to create a space of peace in our busy lives--with an emphasis on letting go of self- criticism that can sap our energy. This mindfulness self-compassion gives students the kindness they often reserve for close friends or family. So instead of blaming and shaming ourselves, we build resilience and access motivation from our deeper values.
What changes has Mindfulness Meditation brought to your life and the lives of those you teach?
I started Buddhist meditation as a student at Western Washington University 40 years ago. Over the years, I used meditation to decrease my social anxiety and fears. I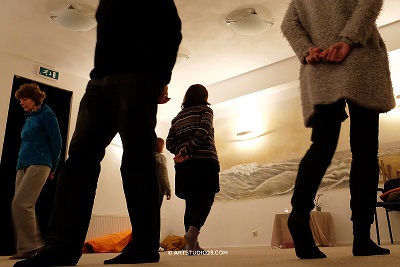 went on to teach English in Japan, work as a special education teacher for Native American students and teach mindfulness to street kids in the Philadelphia ghetto.
After studying MBSR, I begin offering mindfulness to Alcoholics Anonymous groups, stressed medical students, overwhelmed urban teachers, Tibetan immigrants, urban gang members and busy working people. Now and then my former students will stop me at the mall and on the street and tell me, "I'm still doing that breathing everyday!"
What are some of the benefits people find after taking your class?
Over 35 years of research on MBSR including MRI brain scans shows remarkable results for people who take 6-8 week classes. In my class, I've seen similar improves such as reductions in anxiety, depression, and chronic pain, medical symptoms. We also see big improvements in emotional regulation, basic health and well-being, relationships and overall happiness and even joy!  
Learn more about Mindfulness Meditation for Busy Working People.