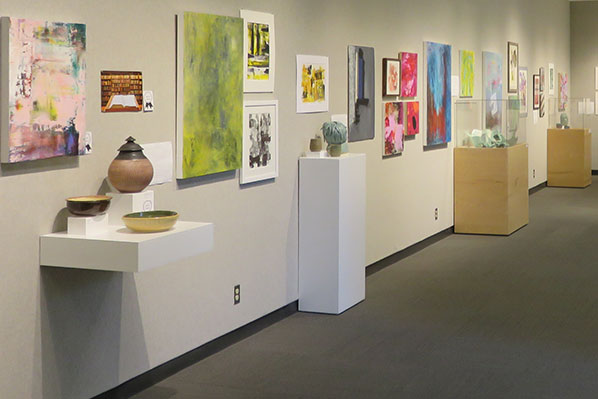 On July 16th, 2019 North Seattle College's Art Gallery was bustling with excited artists and supporters for the opening of the 5th Annual Continuing Education Student Art Show. Since its inception, the event has steadily grown to become a much-anticipated celebration of our students' pursuit of creative self-expression and community building.
Days before the show, a jury comprised of staff and instructors gathered to face the difficult challenge of picking this year's Jurors' Choice Winners as well as the Honorable Mentions.  
Jurors' Choice:
In the Mood
Oil and Cold Wax on Panel
by Andrea Gogrof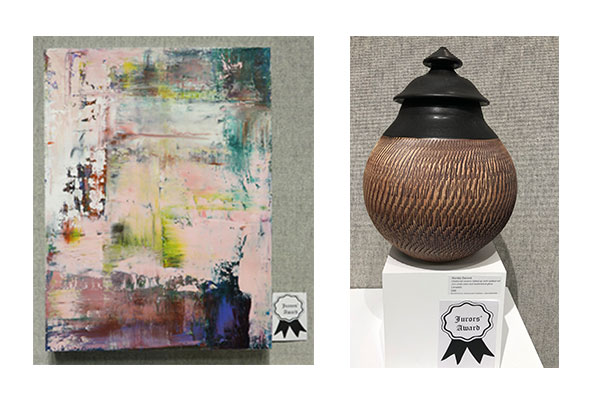 Chattered Ceramic Lidded Jar with Rubbed Red Iron Oxide Stain and Matte Black Glaze
Ceramic
by Wendy Durand
Open Book
Photograph
by Araceli Gopar
Honorable Mention:
Black and White and Gray #7
Acrylic on Canvas
by Janet Kimball
Spring Walk
Oil and Cold Wax on Panel
By Janet Sekijima
The community that has grown within Continuing Education art classes is comprised of a diverse group of talented and enthusiastic artists. Each year the art show sees entries from first time students to long-time participants.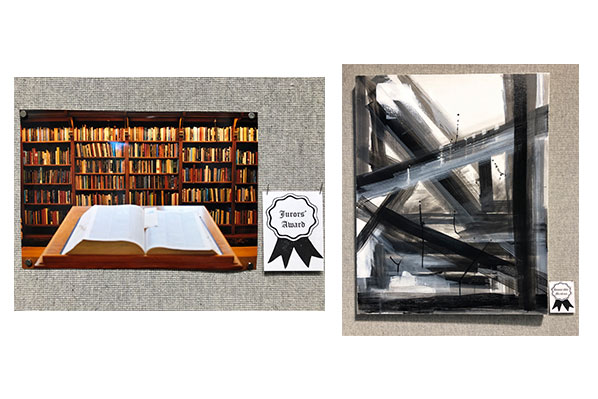 One might consider Jurors' Choice Winner Wendy Durand a veteran CE art student. Though her love of ceramics dates back to her teens, she did not start to pursue it as a passion until later in life. "I became addicted to throwing pottery," she says. "It was so relaxing after a stressful day at work. I think I took beginning pottery from Liz Duarte every quarter for probably 4 years but then 'graduated' to advanced pottery, AKA 'Mudslingers'."
Durand says the circle of creators in her class were students deeply invested in inspiring one another. "Our class is always full of students getting inspired by YouTube videos, each other and our supportive instructors," she says. "My art show piece was inspired by another student who taught me the 'chattering' technique that creates such an amazing texture. Just Thursday, I was demonstrating this technique to another student who was fascinated with the effect. My younger brother is a professional potter in Sitka, AK, and he has been a guest potter in our class a few times. He always passes hints and techniques to me, and I share them with other students in my class or the Open Studio. Whenever we run up against a problem, any of our amazing teachers shares with us the benefit of their extensive experience. There's always such an amazing communal feeling with potters, sharing glaze recipes, different tools and new techniques." 
Araceli Gopar is new to the program, but she clearly came with a zest for photography and a keen eye for composition. "The instructor [Robert Stahl] arranged field trips and during those field trips he would give us tips and answered any questions we had," says Gopar. "Each week all students would share a couple of photos taken during the field trips. The instructor and students would give feedback on each photo presented. I took the photo during a field trip. I was inside a library and thought it would be interesting to have a blurry book image with a clear background."

Honorable Mention recipient Janet Kimball is a regular student of Virginia Paquette. Kimball says she enjoys the creative space established by the instructor as much as the opportunity to paint. "I have taken 4-5 watercolor classes and now am taking my second abstract acrylic painting class. All have been taught by Virginia," she says. "Virginia establishes a space for me to create through her inclusiveness and her positive feedback. She encourages her students to talk and share ideas, and she has confidence that each student will succeed and have the courage to push her/his painting a bit further."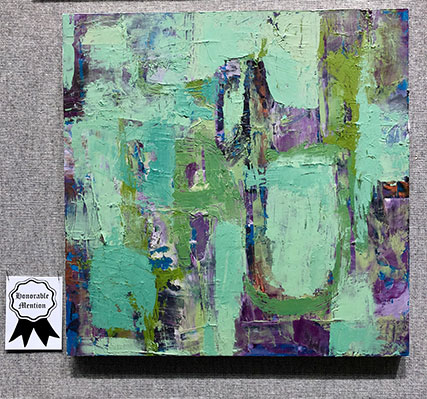 Kimball says she was inspired to create White and Black and Gray #7 in response to the instructor's prompt. "She challenged us to paint using strong, dynamic black lines (She showed us pictures of Franz Kline's work as examples.) I was thinking of a strong architectural piece with lots of space that invites the viewer to look beyond the flat surface of the canvas."
Our second Honorable Mention went to CE Programming Specialist, Janet Sekijima who has taken art classes through the program for years. "I've been on a roll with Virginia Paquette's Abstract Oil and Cold Wax class for the last 2 years.  Before that, I took Amanda Knowles's Beginning and Continuing Printmaking class."
Sekijima says she learned a great deal from the supportive and creative space established by Virginia Paquette and really appreciated the input from fellow students. "I lucked out to have Virginia as my painting instructor," she says. "She's a gifted and inspiring teacher who is excellent at providing a safe and welcoming classroom environment to her students.  I love how Virginia is always teaching something new in class, whether it be introducing us to new abstract artists, demonstrating a new painting technique or how to work with a new medium or offering feedback on my work in progress. Virginia respects each individual's personal 'voice' and has encouraged me to develop my own unique expression. I've also learned a lot just seeing other students' work evolve and grow.  We spend time viewing and critiquing each other's works and analyzing what is or isn't working in a piece and why."
NSC CE's Student Art Show runs now until August 15th, 2019. The show features student work encompassing ceramics, drawing, illustration, collage, jewelry, painting and photography.

July 16 - August 15, 2019
Hours:
T, W, Th 12 - 2pm & 5 - 7pm,
F, 1 - 3pm
Admission: Free