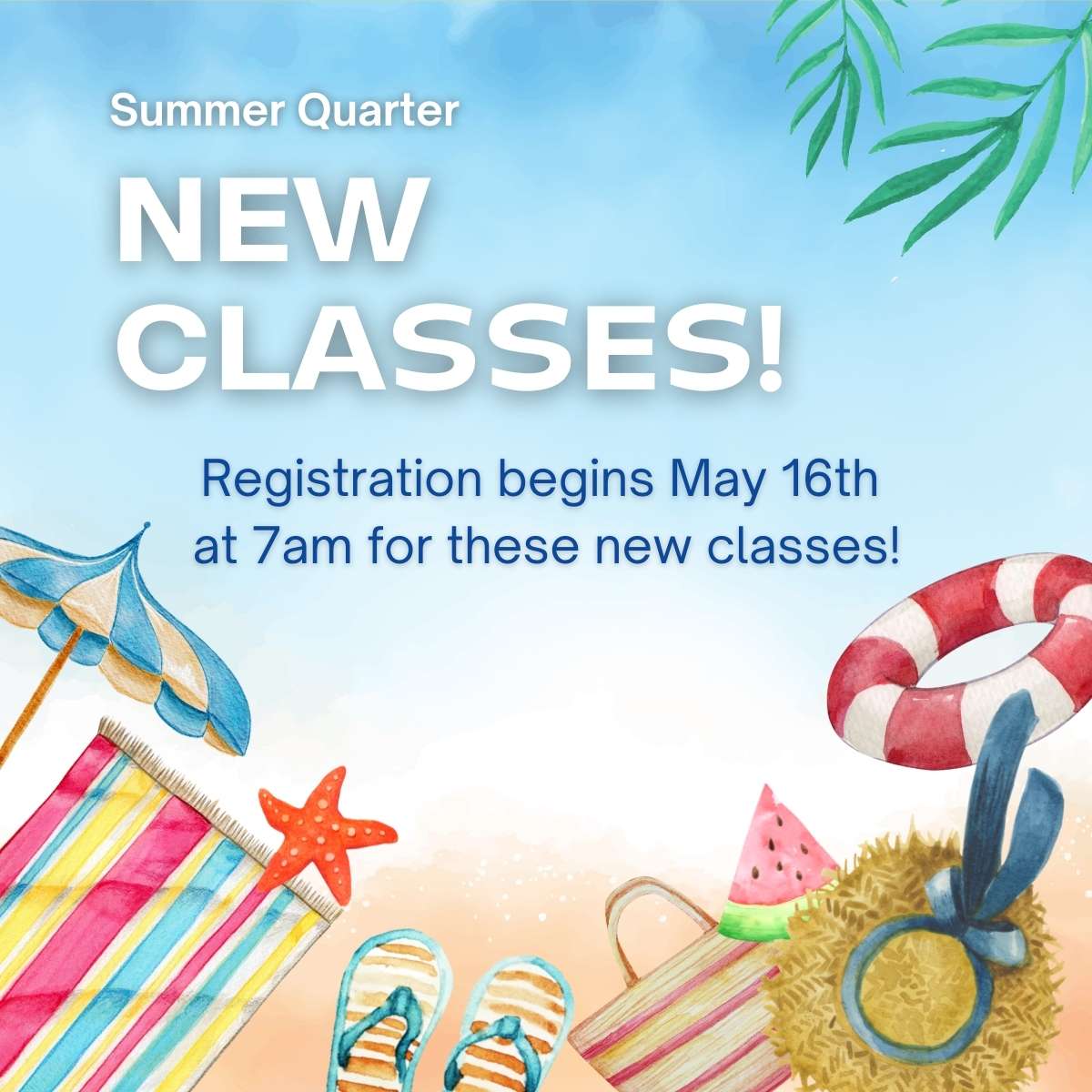 Adult Family Home | Arts | Computer | Enrichment | Fitness | Food & Wine | Home & Garden | Language | Professional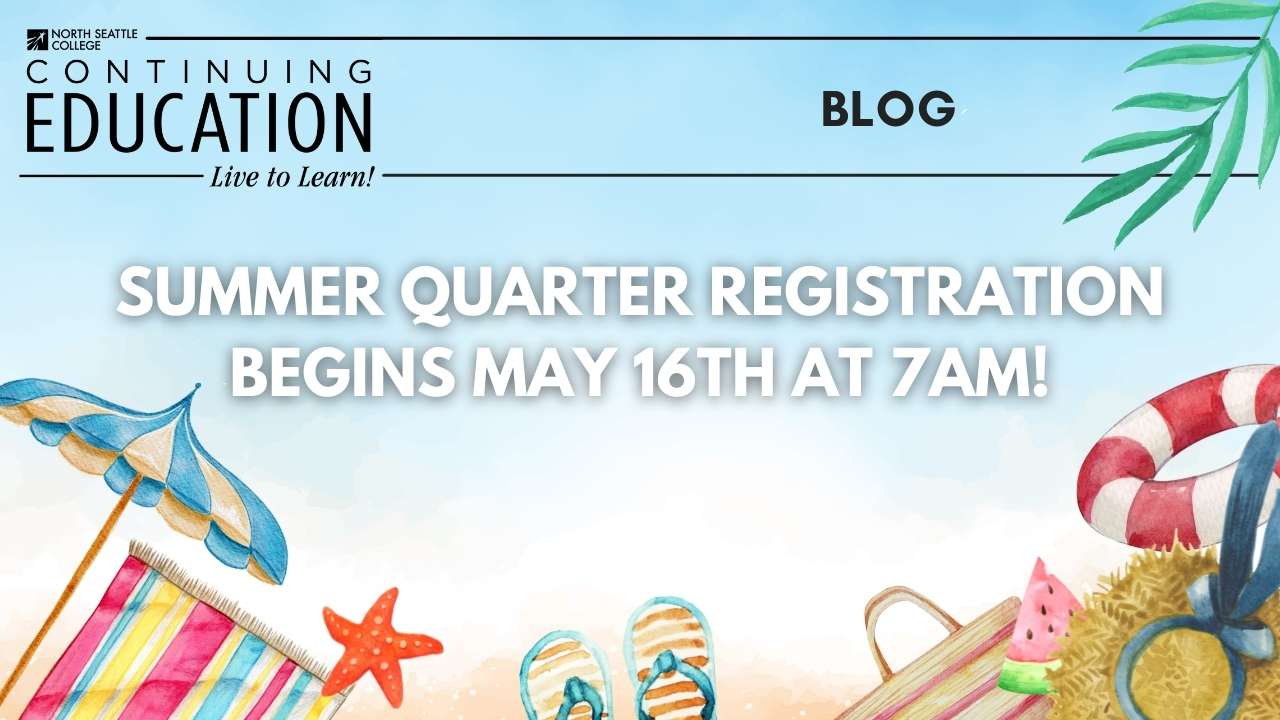 It's hard to believe another quarter is just around the corner and with it comes summer. Summertime in the Pacific Northwest is truly spectacular. The days grow warmer, and the evening stars seem to sparkle their brightest. Friends and family gather for celebrations, cookouts and other events. This summer, unlike the last two summers, will bring even more students back to campus as our world starts to resume some normalcy. It's the perfect time to dive into learning whether that means venturing outside, into a classroom or taking classes online. Join Continuing Education this summer and celebrate lifelong learning and community. Here's a glimpse of new and in-person classes starting next quarter. 

Writing and Roaming in Seattle
On Campus
Dates: 6/29/2022 - 8/17/2022   
Times: 6:00 PM - 8:00 PM

Explore Seattle and improve your writing in this creative writing class for all levels. Students will draw inspiration from prominent North Seattle landmarks and neighborhoods—including the Fremont Troll, Green Lake, the Ballard Locks and others—during guided off-campus walks. Each walk will include information about the neighborhood or landmark, writing prompts and exercises and an opportunity for students to share their written work with their peers and instructor. Join us as we write and roam our way around the city.

Taking Your Drafts to the Next Level
Zoom
Dates: 6/30/2022 - 8/11/2022   
Times: 6:30 PM - 8:00 PM

Whether you have taken a free-writing workshop, or have first drafts tucked away from other writing, this is your chance to dig in and edit some of those lingering first drafts. Editing techniques and tips will be provided at each workshop. Bring your edited versions of previous first drafts to read aloud to workshop participants, then listen to support feedback from others. We will then have the option to further polish the same writing, or to start editing another first draft for feedback. Beginning writers are welcome. Some publishing resources will be made available.

Ballroom and Latin Dance
On Campus
Dates: 6/30/2022 - 8/18/2022   
Times: 6:30 PM - 7:30 PM

This course will concentrate on two dances: The classic slow waltz, which offers a great foundation in partner dancing; and the fiery salsa, a lively club dance. Although different dances, they share some similar steps. This class is perfect for both the beginner and those wishing to brush up on technique and footwork.

Flying Saucer Cinema
On Campus
Dates: 7/6/2022 - 7/27/2022   
Times: 7:00 PM - 9:00 PM

This is a classic science fiction film appreciation class highlighting beloved films that cry out for viewing in a group setting the way they were first presented to the world. Each week will bring something new, films ranging from 'Golden Age' sci-fi of the 1950s and 60s to the dystopian science fiction of the 1970s and occasional forays beyond. Co-hosts Eric Cohen and Mark Daniels will be your guides and provide you with film information, trivia and lively post-screening discussions every week. We kick off this quarter with Ib Melchior's timeless classic Angry Red Planet, an imaginative take on how the first mission to Mars could play out. Next up is It! The Terror from Beyond Space. (You'll have to sign up to learn what 'it' is.) After that we will explore one of the first computer-run-amok films, Colossus: The Forbin Project. (Move over, Skynet.) We wrap up the quarter with Steve McQueen (yes, you read that correctly—it was his breakout leading role) in an unforgettable classic, The Blob, about an iconic alien life form that consumes everything in its path. Whether you are a seasoned science fiction film buff or simply want to put your head in a different place for a couple of hours every week, this will be an engaging, fun adventure of a class you won't want to miss.

Rejuvenate Your Retirement
Two Sessions offered via Zoom
Dates: 7/6/2022 - 7/13/2022 
Time: 1:00 PM - 3:00 PM
               -OR-
Dates: 7/9/2022 - 7/16/2022 
Time: 9:30 AM - 11:30 AM

In this comprehensive course, several key issues will be addressed that retirees or pre-retirees face today. Discover new ways to stay mentally, physically and socially active. Learn about important financial topics like reducing taxes, assessing investment risk, planning for health care needs and planning your estate. Whether your goal is to become more active, give your life a new sense of purpose or make more informed financial decisions, this course will have something for every retiree or those considering retirement.

Soldering Intensive Workshop
On Campus
Dates: 7/7/2022 - 7/30/2022  
Times: 2:00 PM - 6:00 PM

This course is designed for metalsmiths who have completed at least one beginning jewelry class and understand the basics of soldering. It will focus on the foundations of soldering, covering the types of solder joins, as well as advanced techniques such as pick soldering, multiple solder joins, solder removal and more.

Pens, Ink and Art
On Campus
Dates: 7/9/2022 - 7/23/2022   
Times: 12:00 PM - 2:00 PM
Pen and ink are still some of the favorite tools of modern artists. However, the permanence of the ink can be intimidating. In this class, students will be introduced to basic steps and a variety of pen techniques. Learn about technical pens, brush pens, and ballpoint pens; and practice using dip pens.

Cómo Prepararse para Hablar en Público
On Campus
Dates: 7/12/2022 - 7/26/2022
Times: 6:30 pm - 8:30 pm
This is a Spanish language Public Speaking class. ¿Se pone muy nervioso al hablar en público?¿Ha sido invitado a dar una presentación, pero no tiene idea de cómo comenzar a prepararse? Entonces, este curso está diseñado para usted! Aprenda a mejorar sus técnicas de oratoria, a manejar el nerviosismo al hablar y a conectar en un nivel más profundo con su audiencia. En este curso los participantes aprenden a presentar con más confianza, reciben herramientas para mejorar su dicción, estructurar una presentación efectivamente y tienen la oportunidad de practicar y recibir retroalimentación sobre sus presentaciones.

Spanish Conversation for All Intermediate Levels
On campus
Dates: 8/3/2022 - 8/31/2022   
Times: 6:00 PM - 7:30 PM

If you want to review some of the topics we have covered in our intermediate conversation series (levels 1 to 3) or if you have over 80 hours of Spanish instruction and want to enhance your skills, this class is for you. Participate in discussions about culture, history and current events in Latin America. We will review the present subjunctive, pretérito and imperfecto (past) and other tenses. No material needed, instructor will provide handout.

Cool Treats and Eats
Zoom
Dates: 8/13/2022 - 8/13/2022   
Times: 2:00 PM - 5:00 PM

Looking for ways to cook with minimal heat this summer? Join Chef Michele and learn how to make refreshing dishes inspired by summer's bounty sure to entice even the pickiest eater. She will also show you how to create a delicious, no bake, frozen dessert. Class will focus on a combination of fresh ingredients and store-bought items to assemble a main dish and a dessert dish. She will also show you how to reassemble your ingredients into other dishes, allowing you to stretch your ingredients over several meals. Come beat the heat with these dishes.
---
Have a Class Idea? Interested in Teaching for Us? 
Do you have an idea for a Continuing Education class you'd like to see offered?  How about a class you'd like to teach?

Now is your chance. 
Click here to share your idea with us! Click here to submit your class proposal.
---
#continuingeducation #learnatnorth #enrichment #enrichmentclasses #education #continuingeducation #lifelonglearning #career #professionaldevelopment #artclasses #audioengineering #cookingclasses #paintingclasses #ceramicclasses #natureclasses #marketingclasses #socialmediaclasses #languageclasses #homeclasses #interiordesignclasses #cakedecoratingclasses #fitnessclasses #yogaclass #taichiclass #danceclass #investmentclasses #writingclasses #cameraclasses #improvclass #paintingclass #collageclass #oilpaintingclass #dancingclasses #fitnessclasses