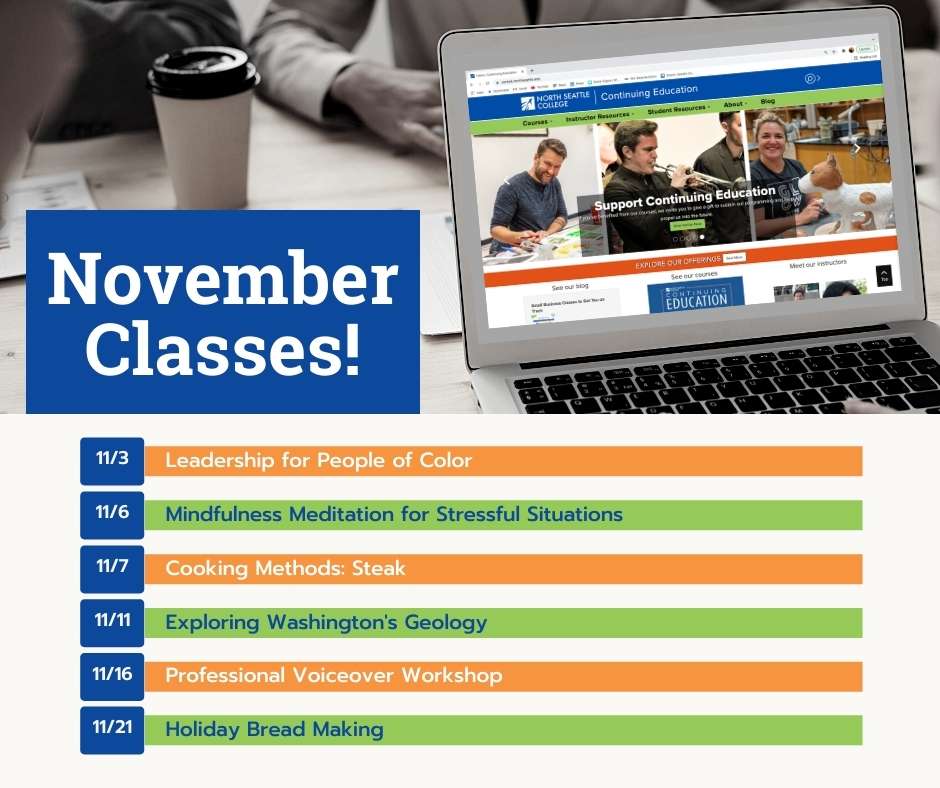 ---
Have You Registered Yet? Don't Miss Out!
Check out these great classes starting Nov 3rd-21! It's not too late to join us! Click the class title for more details and to register.

Alert: Mark your calendar!
Registration for Winter Quarter begins at 7am on November 8th.
---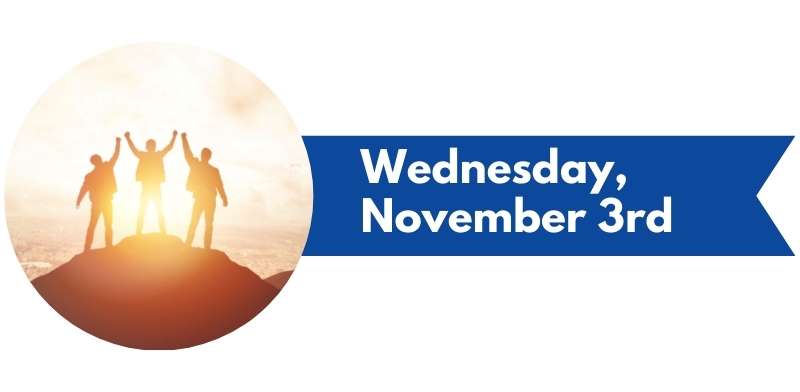 Time: 1:00 pm to 4:00 pm PST
Location: Online, Zoom

Examine the importance of people of color in leadership roles now and in the future. What challenges are encountered in administrative positions? How does cultural identity influence our ability to guide others in accomplishing goals? Explore a mix of leadership models critical to personal and professional success for people of color and how diversity only helps us in our objectives.
---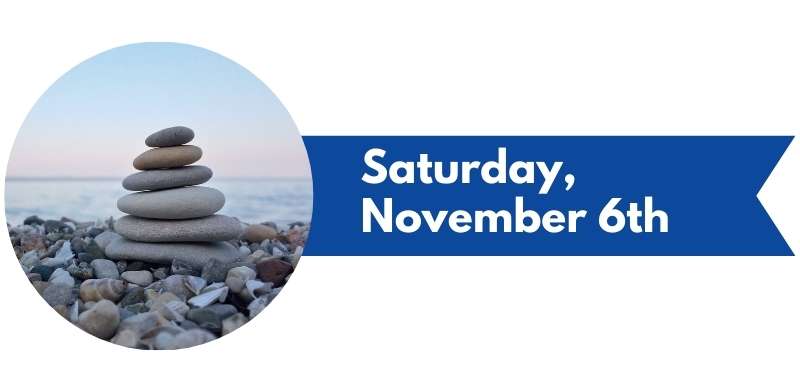 Time: 10:00 am - 12:30 pm PST
Location: Online, Zoom

Freedom from anxiety and worry evolves from incorporating small moments of stillness into your everyday life. Join a supportive community to enjoy practices proven to increase energy and joy like mindful breathing and walking that engage your senses and help overcome trauma. Discover self-compassion practices that allow you to step out of negative thoughts and bring deep care to yourself and others. Based on the classic Kabat-Zinn Mindfulness-Based Stress Reduction (MBSR) course, instructor Andrea D'Asaro offers a streamlined course for people in high-stress jobs such as nurses, doctors, parents, and teachers-or for anyone who needs moments of calm in their daily lives. Bring a snack and a cushion or yoga mat.
---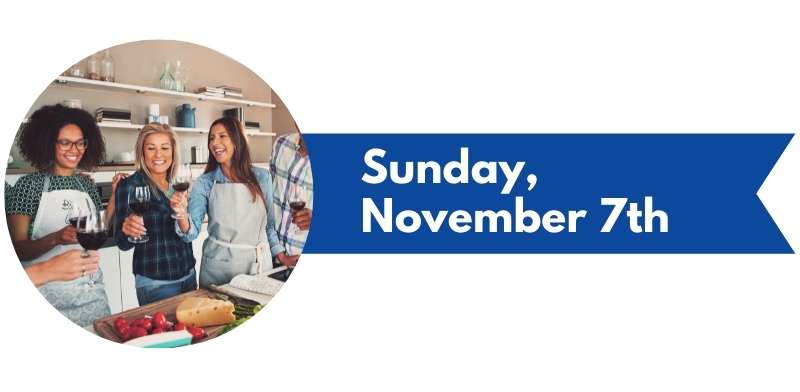 Time: 2 pm - 5 pm PST
Location: Online, Zoom

Cooking the perfect steak can be a challenge but not anymore! Chef Michele will teach you her method for cooking the perfect steak every time regardless if it's on the grill or in the oven. In this class we will be making grilled steak in a pan sauce, a seasonal side and chocolate mousse for dessert. Bring your appetite! You'll receive class recipes, prep packet, and the video recording of the class.
---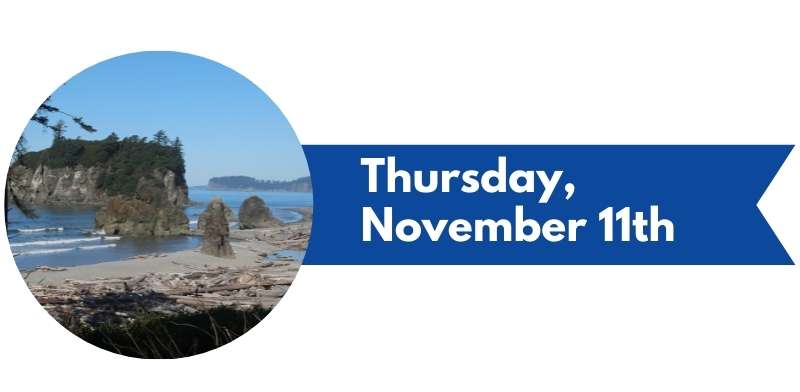 Time: 6:30 pm - 8:30 pm PST
Location: Online, Zoom

Washington State has some of the most impressive geology in the world. We'll look at how the jigsaw puzzle of our state's geologic landscape came together, examining the movement of Earth's crust and how landscapes from thousands of miles away became part of Washington. View Washington's top ten geologic structures and learn how each feature was formed and where to find it. Handouts are provided.
---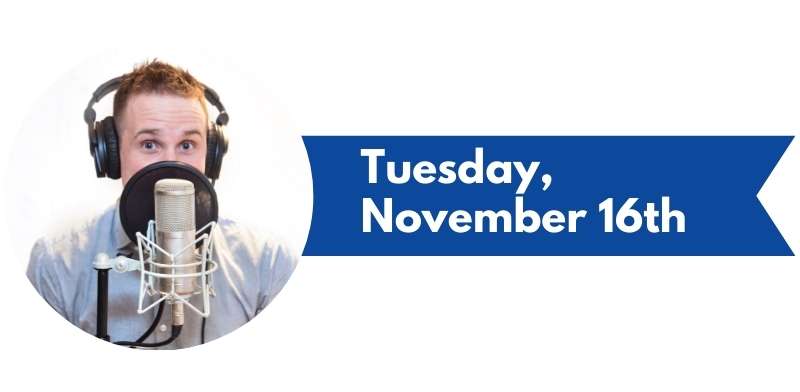 Time: 6 pm - 8pm PST
Location: Online, Zoom

Learn to use your speaking voice for commercials, films and videos. Discover a unique, outside-the-box way to succeed at a lucrative full- or part-time career. This is a business that you can handle on your own terms, on your own turf, in your own time and with very little overhead. In our ever-expanding online marketplace, new companies are looking for fresh voices like never before. This exciting and fun class could be the career game-changer you've been looking for! Lisa Foster has done numerous local and national spots, from website narratives and computer games to commercials for brands like Crest® and Olay®, and even comedy bits!
---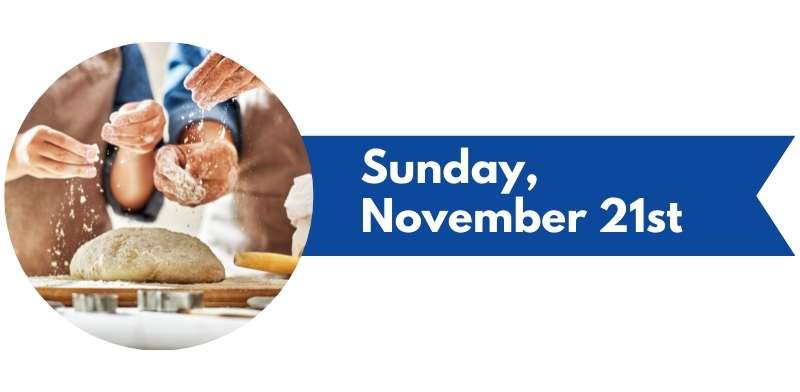 Time: 2 pm - 5 pm PST
Location: Online, Zoom

The holiday season is the most popular time of year for baking and we are going to do just that! Chef Michele will teach you how to make Parker House Rolls, perfect for holiday dinner, Cheesy Biscuits, great for a casual holiday get together, and her favorite for holiday brunches, Popovers. You will leave class armed with three highly versatile breads perfect for the holiday season or anytime of the year. You'll receive class recipes, prep packet, and the video recording of the class.
---
Have a Class Idea?
Do you have an idea for a Continuing Education class you'd like to see offered?  How about a class you'd like to see return? Click here to share your idea with us!
---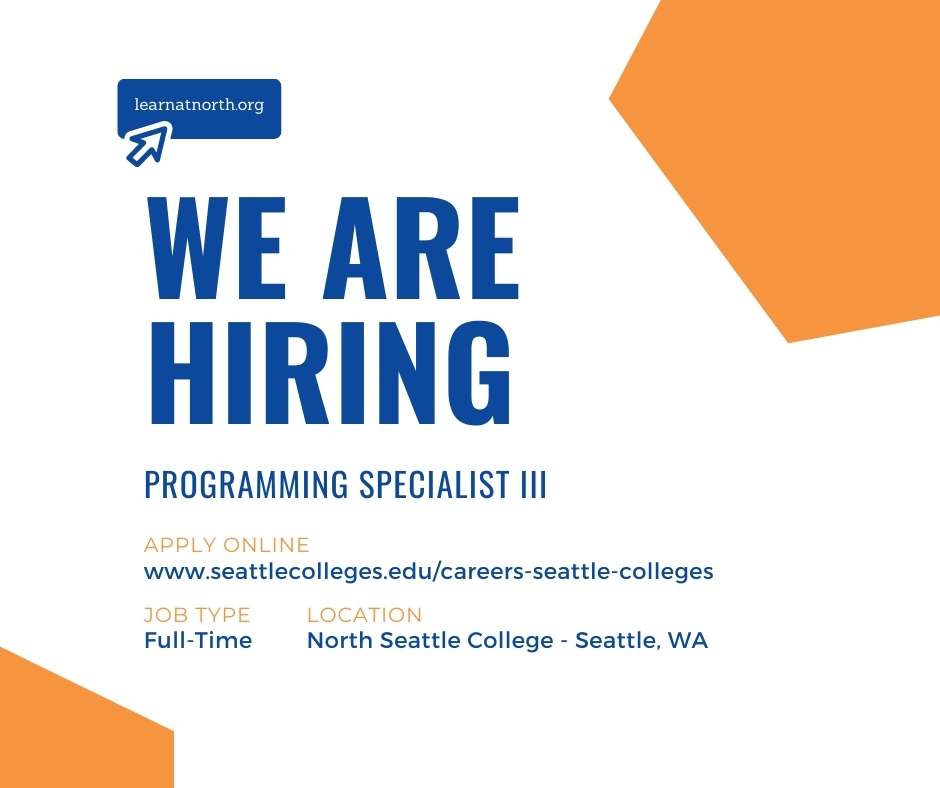 Apply Now! 
Application deadline Sunday, October 31, 2021
---
Tags:
#classes #onlineclasses #continuingeducation #artsclasses #computerclasses #enrichment #enrichmentclasses #gardenclasses #homeclasses #fitnessclasses #foodclasses #cookingclasses #bakingclasses #languageclasses #professionalclasses #eslclasses