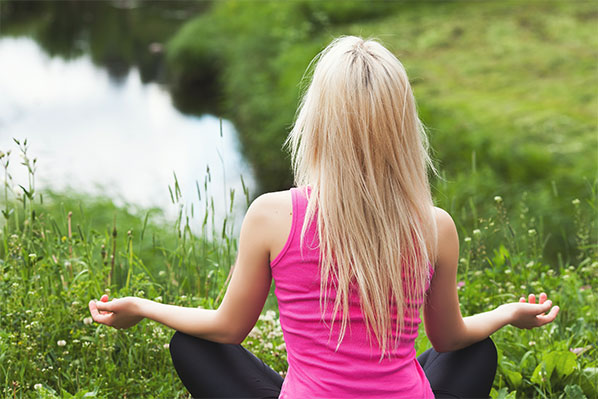 In theory, a stroll outdoors to take in some fresh air and clear our minds is the best tonic for stress. Unfortunately, for most of us irritating problems or persistent ruminations can interrupt a solitary walk by the water or through the woods. However, when we practice mindfulness in nature, as practiced by Zen mountain monks, we can let go of worries and settle the mind and body. As fortune would have it, CE instructor Andrea D'Asaro plans to include an exploration of outdoor meditation in her upcoming class, Mindfulness for Busy Working People.
D'Asaro, who studied Zen in Japan and Tibetan meditation in Nepal, says meditating outdoors has many advantages over indoor practice. "People find regeneration and energy when sitting outdoors because of the fragrant air and solid earth connection," she says. "Meditating outdoors is an easy way to get started in meditation because the sounds and textures of the natural world provide subtle and soothing sensory input that help us let go of everyday thoughts."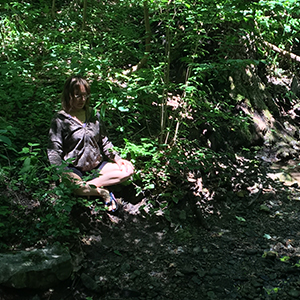 "In fact, studies show that time outdoors decreases symptoms of stress, depression, fatigue, anxiety and confusion," says D'Asaro. "These benefits are heightened in nature, because being in that environment awakens our contemplative side. Using mindfulness, everyday moments like walking the dog, waiting for the bus, and even pumping gas can become powerful pauses free from anxiety and worry."
"It's easy to rest our moving minds on the scent of the trees, the brilliance of the sunlight playing through the leaves, or the sound of a faraway bird call," says D'Asaro, who enjoys her own secluded "sitz spot" at Carkeek Park.  "Mindfulness teaches us to bring our attention back while the natural world restores our mood, energy and vitality. "
According to D'Asaro, finding the perfect "sitz spot" is instrumental to outdoor meditation. "Finding the right sitting spot is like dousing for water. You walk around your area and note what catches your eye, your spirit and what draws your attention. Perhaps you'll see a break in the trees that opens to a clearing in the forest or a secret sitting alcove along a rocky beach. In the Tibetan tradition, this special place where energy beckons is called 'drala,' and defined as an elemental presence available through sense perceptions. Try sitting there and see if you feel a restful presence."
D'Asaro's personal preference is outdoor meditating next to the water. "I have secret sitting spots at Green Lake and Golden Gardens Park, where I can look at the water while sitting on a scarf, feeling the earth under me. I often stop for 15 minutes during a walk to observe the sunlight glimmering on the water and the sound of birdcalls. This time of year the weather is mild and sunny—perfect for outdoor meditation."
Getting away from the confines of the city to locate a comforting place to meditate is also an option worth exploring. "I stay at an isolated retreat cottage on Whidbey Island so I can stay close to the ocean and forest for woodland walks and seaside contemplations," says D'Asaro. "Retreat centers and monasteries of all traditions are often found in the distant mountains or deep forests to take advantage of the serenity and clear perception."
D'Asaro also plans to introduce students to the Japanese tradition of Shinrin-yoku which means "taking in the forest atmosphere" or "forest bathing." "Forest bathing was developed in Japan during the 1980s and has become a cornerstone of health care and healing," she says. "Based in eastern meditation practices and mindfulness, nature explorers open their senses, hone their intuition, and seek to heal the gap between us and the natural world."
D'Asaro shared this verse by Han-Shan, a 7th century hermit who lived on Cold Mountain in China, that she feels describes "forest bathing" experience beautifully:
Today I sat before the cliff,
Sat a long time till mists had cleared.
A single thread, the clear stream runs cold;
A thousand yards the green peaks lift their heads.
White clouds—the morning light is still;
Moonrise—the lamp of night drifts upward;
Body free from dust and stain,
What cares could trouble my mind?
D'Asaro hopes students will be inspired to explore meditating outdoors and how it activates our senses, making mindfulness more alert and wakeful while keeping distractions seem far away and less important.
Learn more about Mindfulness Mediation for Busy Working People.
Photo credit #1: Marina Boykarina_cc_2.0
Photo credit #2: Andrea D'Asaro