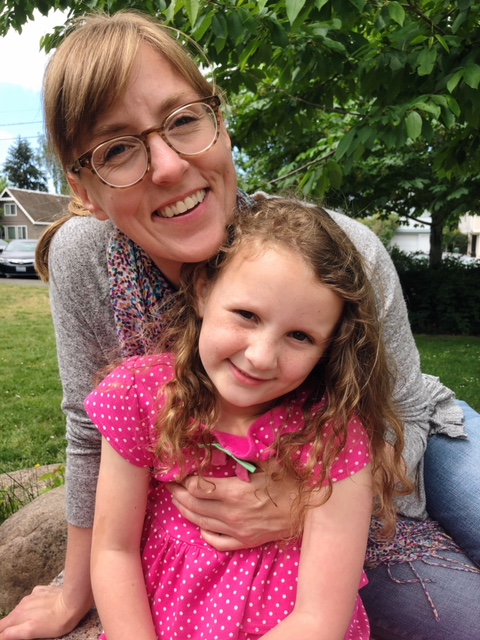 Oralea Howard would be the first to admit she is a Perennial Student. Not to be confused with the Career Student seeking to escape the slings and arrows of adulthood by hiding out in the great halls of academia--Howard is someone so in love with learning that her devotion to personal enrichment is constant, evergreen and regularly in bloom.
Beginning her academic career at the University of Oregon in the Interior Architecture program, Howard soon found the field of study wanting. Next thing she knew, Howard was meandering far from her advisor's prescribed course. "It was a great program but we never seemed to leave the Architecture building," she recalls. "I started taking classes that weren't required because I was curious: economics, biology, religious studies, health, etc. That 5-year program was quickly becoming much longer as I strayed from the plan!"
With the thought of further schooling leaving her listless, Howard decided to go on a hiatus. "I took a year off to work and travel in England, Spain and France," she says. "When I returned to school I decided to study journalism because I enjoyed writing and thought I could utilize my varied interests in a writing career." As a journalism student, Howard wrote an article about K-12 education. She began volunteering in the classroom as part of her research and a new goal began to bloom. "Ultimately that led me to get my teaching credentials from San Francisco State University. I taught science and art to 1st graders before we moved to Seattle in 2010. I feel very lucky to have been able to follow my interests down a variety of paths and I recognize now that education and art have always been at the core."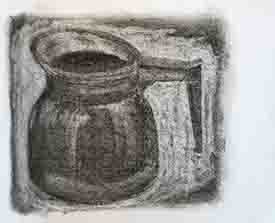 By this stage of her life, it was more than apparent learning ventures would always be paramount in Howard's life. "My husband joked that, when we were starting a college fund for our newborn, we should probably just start a second one for me as it was only a matter of time before I moved on to my next degree or certificate."
For all her love of learning, Howard did not consider herself a genuine lifelong learner until she found herself taking classes at North Seattle College Continuing Education (CE). "(Learning) became such an important part of my life that I realized that I didn't intend to stop taking classes. I had been a stay at home mom for a few years by the time I discovered North Seattle College. At the end of a day at home with my daughter, especially a tough day, it could be difficult to look back and see what I'd accomplished. It was important time we spent together but it could be HARD."
Howard soon realized that for all the joy and discovery that comes with motherhood, she missed the sense of completion found in applying new knowledge. Continuing Education classes opened the door to the learning space she craved. "(C)arving out time to do other things that made me feel happy and fulfilled, using skills and abilities that I value, seemed impossible," she recalls.
For her next chapter of personal enrichment, Howard heard the call to make art. "I've taken art and craft classes in a variety of settings but I wasn't sure what to expect, never having taken a class at a community college," she says.  "I was blown away. The instructors were knowledgeable but the atmosphere was relaxed and fun. My goal was and is to continue to practice, to develop the skills I have and to push myself beyond my current abilities. One way I hope to develop in art-making is to be much more conscious of and deliberate in composition. And work on completing pieces."
Howard took classes in drawing, painting and printmaking. She discovered they were not only fun and fulfilling; they gave her something around which to schedule her life. "I knew that I was going to have that time each week. And at the end of those three hours I would take my art home, set it up on the bookshelf, look at it throughout the following week and think, 'I made that.' That felt good. And so I keep coming back for more!"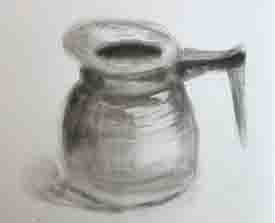 Charcoal Drawing is Howard's latest passion and she cannot get enough. "I can be very focused on creating realistic representations and still love the precision of architectural drawings. Charcoal Drawing pushes me to loosen up and be less attached to a specific outcome." 
As fate would have it, Howard recently answered a notice for an office assistant position at NSC Continuing Education. Now she has regular opportunity to apply her prized skills in writing, editing and creative problem solving to the great appreciation of the CE staff. "I love being involved in connecting folks to what hopefully provides a meaningful experience in one of our classes. And I'm so excited to learn a bit about how it all comes together behind the scenes. Being part of the office has made me even more appreciative of the effort involved in planning, coordinating and managing a program like this."
Howard intends to remain on the Perennial Student path and continue in her creative exploration, while laying some groundwork for more offerings. "Figure drawing was one of the most challenging and rewarding classes I took at the University of Oregon. I'm thinking of giving it a try again through CE." In addition, she would like to suggest a few new CE courses; "I would love to take a level 2 drawing class that focuses on developing and finishing a piece of artwork. Selfishly, CE should consider a Norwegian class to help me prepare for a visit to Norway in May. It seems impossible to learn on my own!"
We wish her all the luck.
View more of Howard's work by visiting her Instagram page.