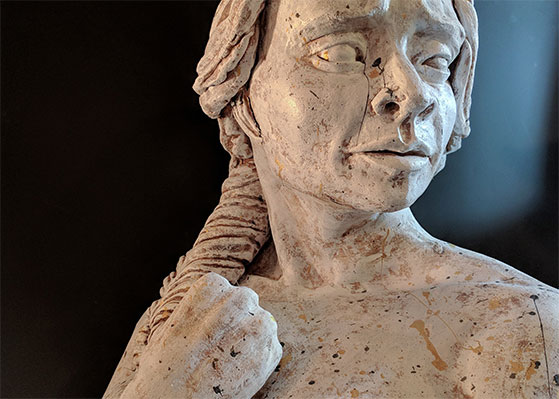 This summer CE offers a new course, Introduction to Sculpture. The class is a terrific entry point for students new to creating with clay as well as a great exploration for those experienced with the pottery wheel. Instructor CJ Carter was kind enough to share her background in the arts, inspiration and what she looks forward in teaching her new class. 
Q: Please share with us your background in the arts. What initially inspired you to pursue 3D digital graphics and how did that lead you to sculpting and ceramics?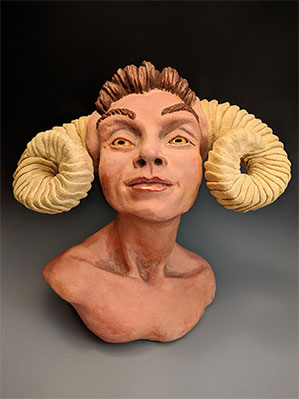 A: I initially went to the Rochester Institute of Technology to pursue a Game Design and Development degree. Two years later, I realized I was more interested in design than development, so I switched to another new major, 3D Digital Graphics. While I greatly enjoyed the lighting, composition, and character building classes, one of the more formative classes I took was actually anatomical figure drawing. This class, taught by a medical illustration professor, introduced me into the process of looking at the body in a much more critical and scientific way. This and other figure drawing classes ended up being fundamental to my development as a sculpture artist. It turned out the skills taught in my classes were easily translatable to clay, so in 2012 I left polygons behind in favor of mud, and haven't looked back since.
Q: You state in your instructor bio that you find creative inspiration from stories found in different belief systems, particularly folklore and mythology. Where was your point of entry for this area of interest? 
A: Since I was a kid, I have been fascinated by Greek, Roman Norse mythology. In college, I took several art history classes and found myself inexorably drawn to Greco-Roman sculpture and architecture. I immediately knew that while this was the type of art I wanted to make, the subject matter and inspirational sources would be vastly different. History is invaluable in understanding how we got to where we are today and legends and myths are a frame in which we can understand these lessons.
Q: How do you describe "trans-human" elements when it comes to your work?
A: Symbolism is something that humans have gotten very good at understanding. We attach meaning to seemingly extraneous elements in artwork, trying to understand more of the artist's intent. Back in the Renaissance, they included religious symbols in part to educate a largely illiterate population: swans represented purity; apples meant evil and temptation, while a spilled inkwell indicated a missed opportunity. What appeared to be simple portraits were filled with meaning for the viewers because of this unspoken language.
In today's culture, we have lost much of the religious symbolism that came with the art of the Renaissance period, but we aren't without similar associations. We understand many common character stereotypes of animals, which is typically what I use to accent the emotions of my figures. For example, instead of having a figure holding an open book, a symbol during the Renaissance for knowledge and wisdom, I might instead give them an owl's facial features or wings. If I want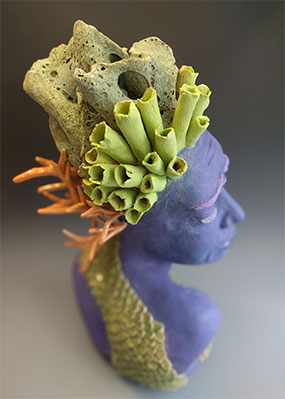 to make an aggressive or masculine female, I might give her antlers or a lion's mane instead of depicting her holding a sword. By doing this, I am representing the figure's character more personally than a held object can. After all, people often modify our appearances to reflect our inner selves.
Q: Please take us on short walk-through of how you conceive and create your sculpture pieces. 
A: I typically create work as an emotional response to my personal life or current events. I am lucky enough to be able to build at a rapid pace, allowing me to execute full pieces in usually around 30 hours of work. Typically, I start with some kind of emotion or idea that I want to convey. While I create a couple small maquette models of the project, I mentally work through whatever structural challenges I may face (will I need to cast a portion of the piece, does it need to be built in multiple pieces, does it need a base, etc) before I launch into full production. I admit to being a risky artist; I don't do a lot of preliminary testing or experiments, but my rapid production allows me to process ideas and concepts quickly, reducing the time cost of a mishap. That said, with each piece, I am trying to refine a new technique or develop a new process. This educational and experimental process is extremely gratifying, and drives my own personal artistic growth.
Q: How did your creative explorations lead you to teaching?
A: I knew I wanted to teach since I was a kid, but I never knew which subject. After I moved to Seattle in 2015, I started taking independent study ceramics classes at South Seattle College in the evening. South structures their program so that all skill levels are scheduled in the same room during the same time slot. This meant that over the next two years, I heard the instructor, Liz Duarte, provide her beginning wheel demos dozens of times. It wasn't long before I was supporting her in class demonstrations, gaining my first taste of teaching ceramics. I loved it. After I left South at the end of 2017, Liz and I remained friends, so when she stopped teaching at North Seattle College, she recommended me for the job.
Q: What do you most look forward to about teaching Introduction to Sculpture? Do students need any prior experience to take part?
A: No experience necessary! It certainly helps, but is by no means required. Sculpture is my passion and focus, and I look forward to sharing that most with students. I find that when I teach something that comes so intuitively to me, I have to think about my process differently and really break down the how's and the why's behind what I do. I find this process challenging and extremely rewarding as I am constantly learning and adapting with the students.
Q: What do you most look forward to students taking away from Introduction to Sculpture?
A: Many people feel intimidated by sculpture and claim, "I'm not an artist." While being artistic does help provide flair, I prefer to focus the class on refining a student's ability to slow down and focus on identifying what they are looking at. I approach the process feature by feature, helping the students identify how the features relate to each other. Of course, I teach technique as well, but it is the observational process that I think is the most invaluable.
Learn more about Introduction to Sculpture.
Visit CJ Carter's website.