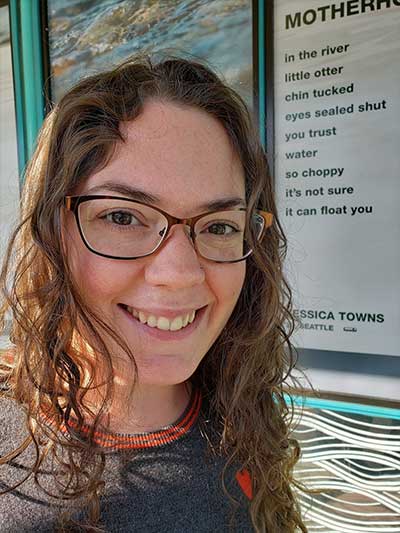 One of the beautiful things about being a lifelong learner is finding the courage to revisit an area of study that seemed determined to reject you earlier in life.  Jessica Towns is just such a learner. Over the years, Towns has explored a great variety of Continuing Education (CE) classes but, to her own surprise, it was her passion for writing that became a constant in her life. "I was an avid reader in childhood, and at an early age, I wanted to be a writer," she says.  "I journaled and wrote poetry into high school, until my Honors English classes killed my interest. I was constantly discouraged because I couldn't come up with the same interpretations of the texts as my teachers and classmates. I concluded that I just didn't 'get' literature and poetry. So, I pursued a college degree in Civil Engineering and put creative writing behind me. For years, I didn't even read for pleasure."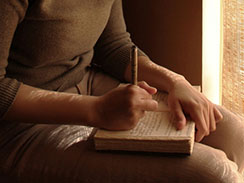 Towns says in 2012 she found herself missing the presence of an emotional and creative outlet in her life and enrolled in Steve Lorton's class, The Art of Creative Writing. "I met an incredible group of writers who continued to get together after the class ended."
Following Lorton's class, Towns found her interest in writing reignited, so she challenged herself to explore another CE writing class. "I knew I wanted to keep writing, but I wasn't sure what direction to go with it," she recalls. "Then a friend and I enrolled in the Poetry Workshop, led by John Newman. John introduced me to a wide variety of poetry and gave me the tools to start creating my own. He went out of his way to encourage me as I wrote my first poems. John's passion for poetry was contagious, and before long, I knew I had found my niche. I continued to study poetry under his guidance until he passed away in 2017. John's legacy includes many students like me, who became lifelong poets because of his dedication."
Towns' poem "Elegy" for John Newman received the Marcia Barton Prize and saw publication in the 2018 Licton Springs Review.
Beyond the inspiration she found in John Newman's instruction, Towns said motherhood also made a tremendous impact upon her writing. "I was pregnant with my daughter when I began taking the poetry workshop," she says, "and with the flood of emotions that comes with having a baby, I felt fortunate to have poetry as a tool for self-exploration and expression. My writing became richer and more meaningful as my daughter grew."
As a regular attendee of CE's Poetry Workshop, Towns found herself emboldened by the community she discovered. "The nature of writing, particularly poetry, involves being vulnerable," she says. "We put our hearts on the page and trust each other to offer kind and constructive feedback. I admire and respect my classmates for their willingness to share, which encourages me to open up, too. I always feel comfortable and supported. Graham Isaac has done a great job continuing John's legacy by creating a safe environment where poets can grow and flourish."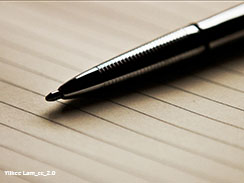 Towns points to the safe and supportive space CE's Poetry Workshop offers as instrumental to her success as a writer. "Having a weekly deadline forces me to fight through my self-doubt and finish my poems," she says.  "Reading my work to the group is incentive to try to keep improving. The exposure to other poets' works teaches me invaluable lessons about the craft. And the validation from my peers helps me keep going when things get tough."
Since attending The Art of Creative Writing in 2012, Towns has not only reconnected with her love of writing, she has thrived as a writer. "My poems have been featured twice as a part of 4Culture's Poetry on Buses showcase, including one currently on display at Northgate Transit Center," she says. "I have a poem in an online edition of Hoot Review, and several in Licton Springs Review. I was a finalist in Prime Number Magazine's Poetry Awards for three consecutive years. I have also contributed several articles to The Highs and Lows of Parenting, a local blog."
Learn more about CE's writing classes and the Annual CE Student Writer's Contest.