Peter Marx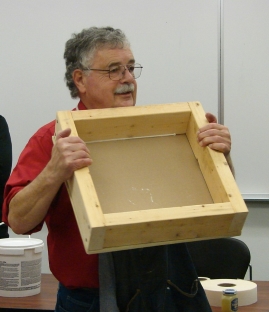 Peter has been self-employed in residential remodelling, (kitchens and baths) and custom solid surface fabrication for over three decades. He has always enjoyed the challenges that they bring and the achievements that he has gained. He was the first certified and accredited Corian fabricator in the Northwest by DuPont in 1979, followed shortly by additional certifications with other major solid surface manufacturers.
Peter is passionate about teaching. He likes sharing his knowledge to help his students become proficient in the repair and maintenance of their homes, as he has done with his many happy, informed and satisfied customers.
Peter's teaching style reflects his ideal of sharing what he has learned over the years, by engaging the class with demos, examples and hands - on learning. By utilizing this process, Peter is able to deliver new and technical information with ease. As a former home repair student remarked of Peter, "(He's) very engaging class -- never a dull moment -- and full of useful and interesting information. Great hands-on projects! "
In 2015 Peter was the recipient of "The Best Instructor Award" (presented by North Seattle College Continuing Education). With 20 years of experience, he is an instructor who consistently sets the standard for a safe and professional approach to his classes. A summer quarter student In Basic Woodworking commented, "I have always been nervous about using electric saws but this class helped me gain confidence. Peter is a great instructor and I look forward to taking more classes from him."
Basic Carpentry and Woodworking
Fall 2019
Nov 07, 2019 to Nov 21, 2019 (3 sessions total)
Fee: $199
Item: 7128
A $45 materials fee is due to the instructor on first day of class and includes use of all tools, materials, and lumber for your first project.

Class meets from 6:00-9:30 pm on 11/7 and from 6:00-9:00 pm on 11/14 and 11/21/19.
Basic Hands-On Home Repair and Maintenance
Fall 2019
Oct 30, 2019 to Nov 06, 2019 (2 sessions total)
Fee: $119
Item: 7127
No textbooks are needed but a general home repair book (Readers Digest, Black & Decker, etc.) might enhance class demos.

A $45 materials fee is due to the instructor on first day of class.
Requests CC 3346 or CC 3345 Needs white board, good room layout and near elevator