Louise Morehead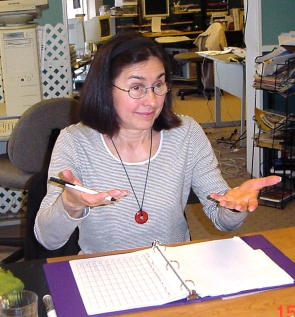 Using her potentials earned through studies and work in anthropology, music, teaching, raising a family, interpretation, human relations and counseling in France and in the United States, Louise is combining her diverse living and learning experiences to create her Experience Language Project based on…..you! Bring your curiosity and your willingness to share it within the class, and discover your potential for moving into the Creative Language Experience.
Continuing French: Critical Thinking- Meeting Online
Summer 2020
Jun 29, 2020 to Aug 17, 2020 (8 sessions total)
Fee: $155
Item: 7308
Required Textbooks: The Ultimate French Review and Practice 2nd Ed. (or more recent) with Interactive CD-ROM set, 978-0071492423
BUY ONLINE, NOT AVAILABLE AT NSC BOOKSTORE.
Tune Up Your French, 2nd Ed. McGraw Hill (optional), 978-0-07-162795-5
French for Beginners II - Meeting Online
Summer 2020
Jul 01, 2020 to Aug 19, 2020 (8 sessions total)
Fee: $155
Item: 7309
Required textbooks: Easy French Reader - A Three-Part Text for Beginning Students
Basic French Premium Second Edition, Total Language Study Program
ESL for Au Pairs: Speaking & Listening
Summer 2020
Jun 30, 2020 to Aug 20, 2020 (16 sessions total)
Fee: $275
Item: 7307
English Grammar Drills, by Mark Lester. McGraw Hill ISBN 0-07-159811-1 .