Michele Sweeney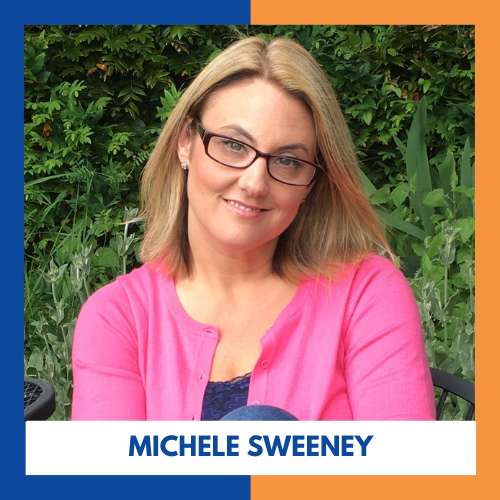 Michele is a fourth generation baker and internationally known culinary artist and instructor with a demonstrated history of teaching around the county. She has won several awards and been featured in a number of print and digital publications. She is a member of the International Federation of Pastry Gelato & Chocolate (FIPGC) and was a 2019 FIPGC Coach for the Cake Designers World Championship, held every two years in Milan, Italy. In 2016 Michele was one of seven top US Sugar Artists handpicked by The Food Network to compete on their popular 'Cake Wars' program.
In addition to her culinary background, Michele has a proven track record in Consulting, Marketing, Design and Product and Content Development. Her diverse skill set has allowed her to work across multiple disciplines in many industries. She has built some of the most recognized brands in e-learning and online recruiting as a UX/UI, Marketing, and Product Development professional. She also enjoys teaching social media and marketing workflow classes here at North.
Her education includes an AAS degree in Design as well as a number of certifications including User Centered Design from Lake Washington Institute of Technology in Kirkland, WA. Her secondary education includes Chez Boucher Culinary School in New England and she's a graduate of the internationally acclaimed Wilton School of Cake Decorating and Confectionery Art in Chicago. Michele is equally passionate about teaching as she is about food and technology.
Social Media Basics
Fall 2023
Oct 09, 2023 to Nov 08, 2023 (10 sessions total)
Fee: $390
Item: 36384
The Art of Cakes
Fall 2023
Oct 21, 2023 to Nov 11, 2023 (4 sessions total)
Fee: $240
Item: 42091
Canva for Beginners
Fall 2023
Oct 10, 2023 to Nov 02, 2023 (8 sessions total)
Fee: $315
Item: 36385
Rustic Pie Basics
Fall 2023
Oct 08, 2023 to Oct 08, 2023 (1 sessions total)
Fee: $70
Item: 37047