Susan D'Onofrio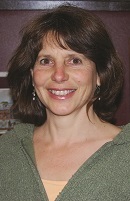 Susan has been practicing and teaching yoga for over 20 years. She has completed many hundreds of hours of training in Iyengar, Viniyoga and Anusara. She believes that Anusara Yoga, with its heart-lifting philosophy of seeing the good in everything, allows yoga to be more accessible and enjoyable for her students. In 2009 she completed her training for Anusara Inspired™ certification. Susan thinks of yoga as a journey rather than a destination. And the beauty of it is that it requires so little from the beginner….simply having your heart in the right place! She offers classes for students who would like to improve their health, increase flexibility, reduce stress and enhance their sense of well-being in a non-competitive, nurturing environment. These classes are appropriate for both beginning and experienced students who enjoy more challenge and depth. Her approach is gentle, supportive, patient, and enthusiastic.
She earned a B.A. degree from Rutgers University.
In her spare time Susan enjoys hiking, gardening, and having fun practicing yoga with friends and other teachers.