Monica McDowell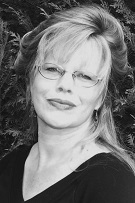 Monica McDowell has helped hundreds of people by showing them how to heal themselves and how to tap into their intuition. She has a private practice in the Seattle area and regularly lectures and offers workshops and classes that empower students to thrive holistically. She has the distinction of being the first ordained minister in the country ever granted civil rights by a federal ruling. She offers Women's Sanctuary inter-spirituality gatherings and has written three books: Confessions of a Mystic Soccer Mom, You are Light, and My Karma Ran Over My Dogma.
Monica McDowell received a Master of Divinity degree from Princeton Theological Seminary in spiritual care and counseling and a BA from Seattle Pacific University in cultural anthropology and cross-cultural communication where she graduated summa cum laude as co-valedictorian.
Monica lives in Seattle with her family, a dog (Ruffles) and a cat (Snuffles). She is known in her neighborhood as the "walking lady" which is infinitely better than the "crazy lady."