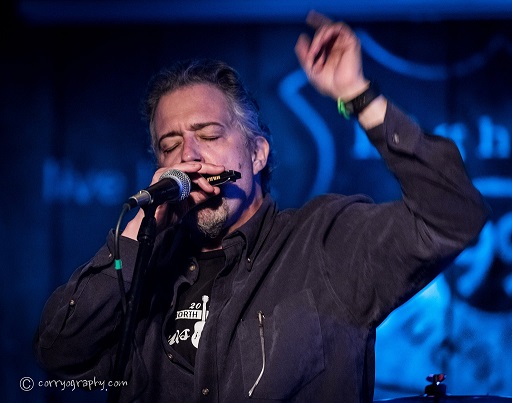 Q & A with Instructor Michael Wilde 
Instructor Michael Wilde has been teaching Harmonica with North's Continuing Ed program for more than two decades. While those many years of experience may not have prepared him to teach during a pandemic, it gives him a depth of experience that comes through loud and clear, even over Zoom. Teaching his class virtually has allowed him to continue sharing his passion with our community of lifelong learners while also sharing a practice of self-care that has recently become even more important.  
What role has music played in your life as you endure the COVID pandemic? 
Music has always played a huge role in my life, but it has been particularly important during the days of COVID. I listen to music throughout my day to enhance whatever I am doing. Listening to the right music can inspire, relax, excite or heal. Playing Music is completely involving. You use all aspects of your being, your mind, your body, even your soul. I have always found it to be a form of meditation. When I go to my practice space, I am able to immerse myself in the making of music. Everything else goes away. It's just me and the music. I guess it has always been a form of self-care, more so now.
Social distancing has been particularly hard on musicians and all performance artists. What are you most looking forward to once we can ease up on those restrictions? 
Yes, live music is practically non-existent at this point. The Blues Scene was hurting before the pandemic, with the loss of some key venues. What I look forward to most is sharing music again in a live setting. Reconnecting and playing music with my fellow musicians.
You taught Playing Blues Harmonica virtually in the fall. What can students expect from a music class taught over Zoom?
The Zoom class mirrors the in-person class in many ways. The same topics are covered. Of course, there is a bit of adjustment and a learning curve as we get familiar with using Zoom. I have made some improvements to my system, such as adding a better microphone. We are still learning and adapting. It is a work in progress.
What were some challenges you faced teaching virtually and how did you address those? Are there any benefits? 
There were definitely benefits. We didn't have to deal with traffic or parking. We were in the comfort of our own spaces, which tended to help folks relax more readily. Hearing the students clearly was sometimes challenging. There were also some latency issues with the sound, based on internet traffic and band width. We were able to improve things when we slowed down and muted everyone, except the person playing at the time.
How did your path lead you to become a Continuing Ed instructor?
I was teaching in Bellevue and doing private lessons before I began teaching with Continuing Ed. I taught in conjunction with playing live music, mostly Blues. I was one of the founding members of the Hudson Blues Band, an electric Chicago/Texas style ensemble. We played together for over a decade, won many accolades and got to play with some legendary players. When we competed in the International Blues Challenge (IBC) in Memphis, I had the pleasure of meeting Son Jack Jr. He was living in Seattle at the time. When we returned to Seattle, Son Jack contacted me to see if I'd like to be part of an acoustic duo. We played together for over a decade.
In addition to the duo, we had an electric ensemble called the Delta Hothouse. We even tried our hand at combining Blues with Electronic Dance Music. We released 2 recoding projects and once again were recipient of multiple awards. We competed in the IBC and shared the stage with folks like Charlie Musselwhite, Sonny Landreth, Candy Cane and even got to open for Check Berry at his club in St. Louis. Son Jack Jr and stopped playing together about a year ago and he has since returned to his home in London. I truly hope we get the opportunity to play together again someday.
You have been teaching the harmonica to Continuing Ed students for more than 20 years! How have your classes and students changed over that period of time? 
The diversity of classes has definitely increased over the years. When I first started it was mostly middle-aged men. Now we have more women, children, folks from different countries. It's great!
I love to teach, not only because of the human interaction, but because it makes me continue to learn and keep my skills sharp. And an affordable group class like this one I teach for North is a great community-based entry point I can offer in my quest to turn people on to this wonderful instrument.
Learn more about Michael Wilde and his class, Play Blues Harmonica!